10 Garden Pest Removal Ideas
These DIY pest control products are sure to help your garden thrive, without the interference of common garden pests!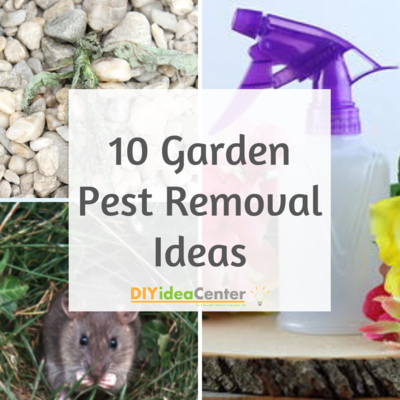 Any outdoor gardener knows that no matter how much you try to prevent weeds, insects, and other pests from accessing your garden, they will show up anyway sometimes. Thankfully, there are many DIY pest repellants out there, many of which are compiled below.

While some store-bought brands might be the easiest and fastest route to getting rid of your pests (since you can go out and purchase them, without having to spend any time making something yourself), there are numerous ways to make effective, natural pest repellants for your garden. This is especially important for anyone who wants to use less chemicals in their everyday life and garden.

Whether you're struggling with insects, weeds, or wildlife, there is a guide for you below that might make your gardening experience just a little easier. 
Table of Contents
Getting Rid of Garden Insects
There are a variety of insect pests that can invade your garden and put your outdoor gardening at risk. However, many other gardeners experience these issues as well, so there are a plethora of resources to help you prevent any damage to your garden from insects. Not only do many counties across the United States implement mass spraying of chemicals to kill insect pests from gardens and farms, but there are numerous brands that sell a variety of products to remove pests from your garden.

If you are interested in creating your own DIY pest repellents (with less chemicals and/or using household products that you already have in your home), then check out the insect and bug repellants below! While a general insect repellent for your garden will do a great deal of good, it is often necessary to use a repellent specific to a certain pest; both types of repellents are included in the links below!
If you want to start growing more plants that you can use in cooking and baking, check out this guide and learn more about Planting And Growing Herbs
Spraying Away Your Weeds
If you are just starting out with your gardening or have accidentally let your weeding get away from you in the past few weeks, then you might want to look into weed killers. Just as with pest repellents, there are a variety of store-bought, ready-made weed killers at any grocery, plant, or hardware store. It is very feasible to make your own weed repellents, whether you want them to be budget-friendly or to use specific household materials you already have in your home. DIYing your own weed or grass killers can help you avoid toxic materials and chemicals that will seep into the rest of your garden, while still allowing you to get rid of the weeds in your garden once and for all!
Removing Animal Pests
Depending on where you live, you might have a variety of different animal pests terrorizing your garden. Two of the most common are rodents and deer, and while (as with every type of pest) there are likely chemical-filled products that you can use to get rid of them, there are also many DIY ways to prevent these animals from making your carefully-planned garden into their new home.
Free projects, giveaways, exclusive partner offers, and more straight to your inbox!
Tags / Related Topics
Your Recently Viewed Ideas

Something worth saving?
SAVE all your favorite ideas
ADD personal notes
QUICKLY reference your ideas