Anatomy of a Roof [Infographic]
When you're looking at roof repairs, this anatomy of a roof diagram is here to help.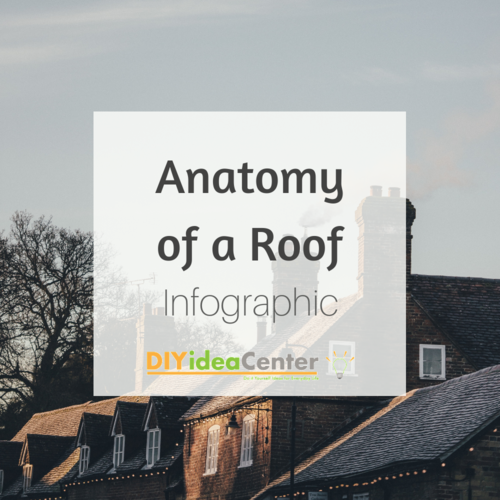 The anatomy of a roof isn't something that most people think about until they have to.

Usually it comes up when you think about repairing or replacing your roof. You go to talk to a contractor, or you start thinking about a DIY project, and you suddenly need a whole new lingo to describe the roof of your house.

We're here to help!

Check out this simple infographic that shows all of the parts of your roof. Print it out for easy reference, and head into your home improvement with confidence.

DOWNLOAD and PRINT here!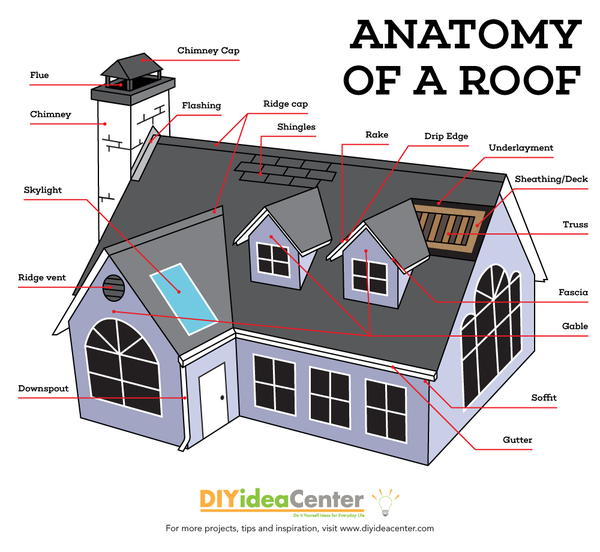 1. Chimney
This is one you already know, but it's good to start with some basic roof anatomy. Chimneys either emerge from the top of a roof, or they can be placed alongside the outer wall of the house and extend above the roofline.
2. Chimney Cap
A piece of stone or metal that tops the chimney. It keeps rain and snow out of the chimney.
3. Flue
This is the lining of the chimney, typically made of clay tile, which makes it safer for smoke and fumes to travel from the fireplace to the exterior of the house.
4. Flashing
The materials that help join different parts of the roof.

For example, it's necessary to put a waterproof layer in the place where the chimney and the rest of the roof join in order to keep out rain and snow. Similar constructions might be used on other parts of your roof to keep everything sealed properly.
5. Shingles
This is another term you likely know. Shingles form the topmost layer on your roof. Asphalt shingles, usually measuring 12" x 36" in size, are the most common, but wood, tile, and metal shingles are also popular.
6. Underlayment
The layer of material just below the shingles. It's typically made of asphalt-soaked felt paper, which is durable and helps protect the roof while the shingles are being installed. It also provides extra protection in the event of broken or torn shingles.
7. Deck (or Decking)
The base layer of your roof, made of wood or plywood.
8. Gable
A triangular peak between two parts of the roof on the side of the house.
9. Drip Edge (Eve Flashing)
Metal flashing that's secured to the edge of the roof to deflect rain and snow.
10. Rake
Exterior trim that is placed on the outside edge of the roof, from the eave to the ridge.
11. Soffit
The piece that goes on the underside of the eaves, between the home's siding and roofline. It's often vented so that it provides airflow for the attic space.
12. Fascia
A board that is attached to the end of the roof rafters. It supports the gutters and deflects moisture from the house and roof.
13. Ridge
The peak where two parts of the roof meet. It often has a ridge vent in order to allow air into the attic.
More Tips for Roof Repair
If you're reading this article, then you're probably thinking about some roof repair. Whether you're choosing a contractor or thinking of DIY repairs, we want to make sure that you have all the tools to make your home the best it can be.

Thinking of hiring a roofing company? Read this first. 

Check out the Better Business Bureau's top tips for choosing a roofing contractor. Their tips include important things like making sure your contractor is properly insured and provides written warantee information.

Are you inspecting your roof often enough?

You should inspect your roof about once per year. Look for issues like missing shingles, cupping or curling shingles, water damage, and other problems. If you only notice a few damaged areas, then you can repair (or hire someone to repair) those as needed. If you see multiple areas of damage, or widespread signs of wear and tear, then it's time to start planning a new roof.

Thinking of DIY roof repair?

Read these smart tips for repairing all kinds of damage that you might find on your roof. From a leaky roof to damaged roof vents, the Family Handyman provides helpful tips for DIY roof repair.
What are your best tips for roof repair? Let us know in the comments below!
Free projects, giveaways, exclusive partner offers, and more straight to your inbox!
Tags / Related Topics
Your Recently Viewed Ideas
Images from other DIYers


Something worth saving?
SAVE all your favorite ideas
ADD personal notes
QUICKLY reference your ideas