10 Low Light Succulents (Plus 4 Easy DIYs!)
Learn all about low light indoor succulents and how to properly care for them!
By:
Carly Nicholas, Editor, DIYIdeaCenter.com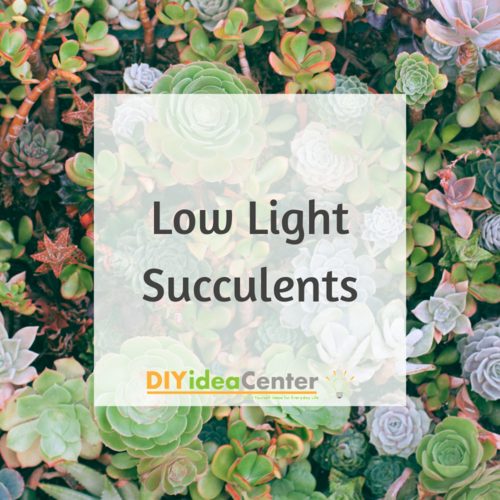 If you've been on social media over the last few years, you would know that indoor gardening has become one of the hottest trends of interior design. The most popular plant among those that can survive indoors is the succulent, thanks to their reputation of being low maintenance, and the fact that they are pretty darn cute. 

What you may not know, though, is that caring for succulents is not exactly as it seems. Take it from someone who has accidentally killed a handful of these little guys, having some background information on low light succulents can affect how well the plants survive in your home. 

So, with all of that said, we've compiled a list of low light indoor succulents as well as a few tips and tricks to get you started on caring for your new garden. Don't forget to scroll through to the bottom to see a few fun DIY succulent planter ideas we've pulled for you, too!
Types of Low Light Succulents
If you're heading to your local nursery for low light succulents for your office or home, it's helpful to know which types can survive and even thrive in poor lighting conditions. 
Aloe. If your thumbs aren't the greenest, aloe plants are a great place to start. They are probably one of the easiest plants to keep alive. They can grow up to 30 ft., but you can contain their size by keeping them in smaller planters.
Gasteria. This is one of the most common succulent plants you'll find. These guys can survive in most lighting conditions except for direct light and heat, making them perfect for your windowless office or poorly lit dorm room!
Haworthia. Though commonly mistaken for aloe, this succulent is smaller in size. This plant does look its best in filtered light, but it can also live well with low lighting conditions.
Echeverias. These plants can end up green or a beautiful shade of pastel purple. This beauty comes with a slight challenge, though. This succulent doesn't like to be overwatered, because it rots easier than most.
Kalanchoe. If you're looking for a succulent that also produces flowers, you're in luck with this one. This adaptable and easy-to-care-for plant can tolerate heat, making it perfect for homes in warmer climates.
Hoya. This succulent, known as the Wax Plant, resembles wax in more ways than one. Like wax, the plant's integrity is damaged by extreme heat, making it perfect for indoor gardening.
Sansevieria. Like aloe, the sansevieria is a great starter plant. It can live for years and grow up to five ft. tall, just keep it away from direct sunlight. This plant has also been known to help purify the air. Can you say bonus?
Parodia Haselbergii. Similar to the kalanchoe, this low light succulent has been known to produce beautiful flowers!
Schlumbergera. This tropical cactus plant produces vibrant fuschia flowers. It's a great plant if you have a home with a lot of windows, because it likes partial sunlight and requires partial shade.
Senecio Rowleyanus.  This spindly succulent's vines resembles a string of pearls, making them a beautiful addition to your home's decor. They love hanging planters, because it allows the vines to grow long and free.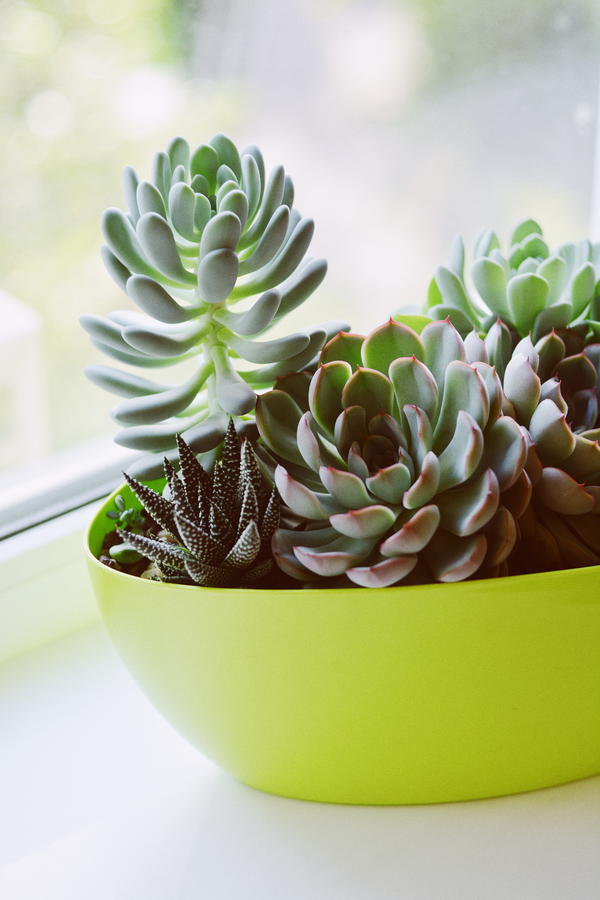 Succulent Care
So, you've picked out which type of low light succulent you want for your home, now how do you keep it alive? The fastest way to kill a succulent is a combination of perpetually wet soil and incorrect lighting. 

The number one rule for succulent care (and any plant care, for that matter) is to never pot it into a planter that does not have a drain. These planters are not breathable, and your succulent's soil will eventually get soggy and moldy. Yuck! 

Speaking of soggy, you want your succulents to be on the dry side. Does this mean you don't ever have to water it? That's what some people mistakenly believe, but neglecting your low light succulent's water supply completely will lead to its untimely death. You should water your indoor succulents less than once a week, so roughly every 10 to 11 days. When it comes to the actual act of watering, avoid using a plant mister and always water the base of the plant, not the leaves. 

The way your plant drains also depends on the soil you use to plant it. Because your succulent is living in poor lighting conditions and less heat, excess water takes longer to evaporate, which can drown your succulents. A good potting mix for your low light succulents is a 1:1:1 ratio of perlite, cactus mix, and coarse sand or gravel. 

If you have accidentally over-watered your low light succulent, there may still be hope! To rid your plant of soil mold, you can sprinkle either ground cinnamon or baking soda to the area. Another way to solve a soil mold issue is to spritz on a mixture of apple cider vinegar and water (two to three drops of ACV per one cup of water). 

The last thing you need to remember about caring for your indoor plants is the lighting. Yes, these are called low light succulents, but that doesn't mean you can just shove your succulent in a closet and expect it to still be thriving months later. Whether you give your succulent some time under a grow light or set it by the window every once in a while, you need to make sure it is receiving some of the spotlight.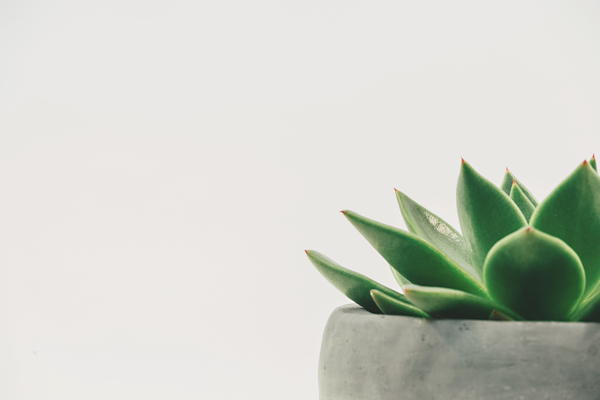 4 DIY Succulent Planters
Now that the basics are covered, it's time to have some fun with your new plant babies! You can turn your home into an Instagrammable eden with the help of these projects, just be sure to include a draining hole in each of them!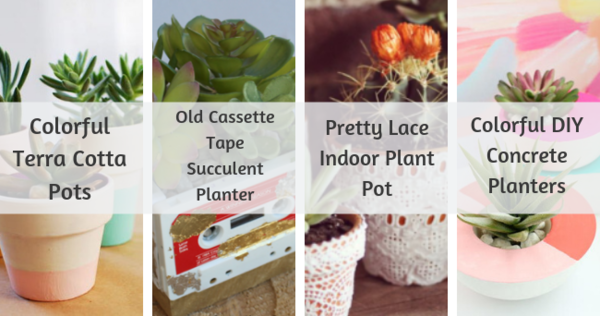 Which planter are you going to make? Let us know in the comments!
Free projects, giveaways, exclusive partner offers, and more straight to your inbox!
Tags / Related Topics
Your Recently Viewed Ideas
Images from other DIYers


Something worth saving?
SAVE all your favorite ideas
ADD personal notes
QUICKLY reference your ideas