Indoor Gardening 101: How to Garden Indoors, Indoor Gardening Tools, and Planting Ideas
Bring life to your indoor space with these indoor garden ideas!
By:
Emma Hassemer, Editor, DIYIdeaCenter.com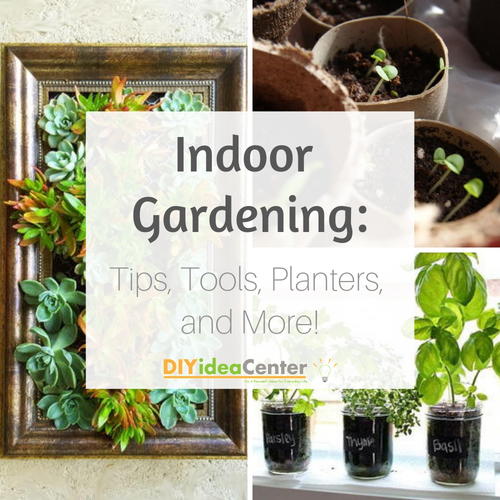 Gardens are like people, they need love, care, and attention. When your blossoms bloom in full effect, there's nothing more stunning than the fresh scent and beauty it brings to your backyard. It's a shame when summer comes to an end and your pretty plants begin to droop, sway and drop. But, if you have just the right indoor gardening tools, then you'll have gorgeous greenery galore in the heart of your home all year long.

Indoor gardening may seem like a high maintenance chore, but with the right supplies, space and plants, your home will be your own little rainforest of veggies, succulents and flowers. The best part about growing a garden indoors is that you won't need to throw a funeral for your plants at the end of summer. With the proper indoor gardening tools, your plants will last a lifetime (well, almost).

From the perfect temperature to lighting to the types of plants, everything you could ever wonder about starting your very own indoor garden is right here. Get ready to pop on your gardening hat, slide on your stylish gloves and get a little dirty, because your new hobby is just a few scrolls away!

Finding a Superb Space for Your Indoor Garden
An indoor garden can be as big as your living room or as small as a planter hanging on your kitchen wall. No matter the size, you need to find and/or make space for your plants to make sure they grow to their full potential.

A key tip in deciding on the area in your home where you're going to start a garden is to choose a space with a tile or linoleum floors. The last thing you want is for your wooden floors to become damaged from the water droplets falling from your plants. If you don't have that type of floor, there's no need to rip up your current layout! Grab a tarp or a rustic looking bucket to catch any dirt or water that may fall off of your plants every now and then.

If you don't have enough ground space, try installing some shelves. These simple wooden boards provide planting room, while taking up the littlest of space. If you decide to place your floral arrangement on these shelves, make sure they are reaching light. This may require a separate grow light.
Natural Light vs. Grow Light
Let there be light!

Plants need light to photosynthesize, a.k.a survive. If there's no light, your plant will most likely die or grow tall and lanky. (Fun fact: Did you know that by placing your plants by a window, they still probably aren't getting enough light, especially during the winter months?)

Here are a few things to keep in mind when deciding on a grow light:
Plants have photoreceptors that absorb specific wavelengths of light, therefore your light needs to have the same wavelengths as the sun. Sun is known as a natural light source. 
Without burning or damaging the leaves of your plants, the light should be as close as possible to the plant. Regular light bulbs will not work for your plants. 
A plant that requires a longer timespan of light are referred to as long day plants. These need 14-18 hours of light.
A plant that requires a shorter timespan of light are referred to as short day plants. These only need 10-13 hours of light. It's important to not expose them to too much light, otherwise they won't bloom.
To help you get started on your indoor garden, check out these DIY planters you can make right in your home! Your veggies, flowers, or succulents will look amazing in any of these Darling Homemade Planters: 28 DIY Planters
How to Choose a Grow Light
So, what's the best grow light for you? Here is a list of the types of lights that will work for your plants:
Incandescent lamps: inexpnsive, bought at hardware store or nursery, not ideal for growing an indoor garden, work well with household plants
Fluorescent lights: inexpensive, bought at hardware store, not ideal for flowers or plants that are budding, work well with herbs and other plants that don't require a lot of light
Compact fluorescent systems: bright, smaller and more efficient than other large fluorescent lights, produce less heat, can be placed closer to plants
High intensity discharge bulbs:  brightest and most efficient lights, expensive, one 1,000 watt light bulb can produce the same amount of light as 40 watt fluorescent lights
Aside from the lights, there are several types of HID bulbs, but the only ones that an indoor gardener will need are the high pressure sodium and metal halide.
High pressure sodium bulbs: helps with flowering, lifespan 2X that of metal halides, economical
Metal halide bulbs: helps with leaf growth, 10,000 hour lifespan, when you see your flower starting to bloom switch over to high pressure sodium bulbs

Temperature and Humidity
Is it hot in here or is it just me?

Like us during the spring and summer months, plants enjoy soaking up some 65-70°F weather. Plants that overheat will turn out small and ones that become too cold will have yellow leaves that will slowly fall off.

Plants also love some humidity, and by some I mean a lot. Higher humidity gives plants moisture that'll help the overall growth process. But, if you're unable to control the humidity in your home, follow these steps:
Mist/water plants more often
Place a tray of water near your garden and infuse with lava rocks to increase evaporation
Plant plants closer together 
Run a humidifier 
According to
Planet Natural
, "you know if you have a humidity problem if the tips of your leaves are brown, plants look withered or puckered, plants lose their leaves [and] if you've researched how much humidity your particular plant needs and isn't getting it."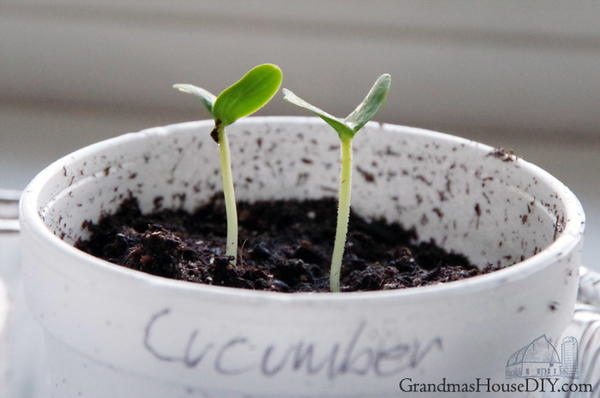 Growing Medium & Hydroponics
A few more necessities for your indoor garden is a medium (no, not a psychic) and hydropnics. What are these you may ask? Well, a going medium is the soil you let you plants sit in. Hydroponics is the process of "growing plants in nutrient-filled water so the plants can devote more energy to producing fruits and vegetables rather than searching for food," (SFGATE).

It's very important that you don't use soil found outside as your medium. This soil is very heavy and may contain unwanted materials such as weeds and bugs. Try one that is loose and will drain well, but will leave plants feeling hydrated.

If you're not feeling the soil, try out hydroponics. This process is precisely gardening without the soil. Hydroponics provide the nutrients directly to your plants. If you've never used this way of gardening before, check out these advantages:
Faster plant growth
Use less water than soil based gardening
You'll use less space for growing (smaller pots)
No changing of soil
You can grow year round indoors
Sterile environment, therefore no pests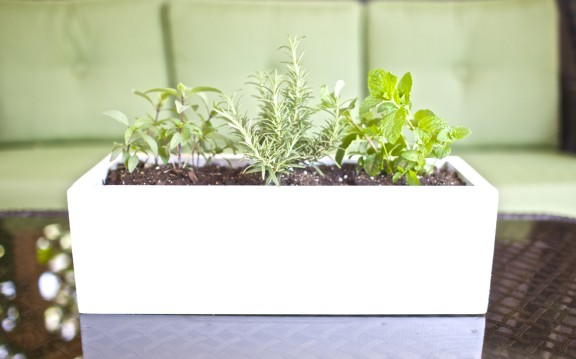 Pretty DIY Planters
Now, you don't need to plant your seeds in some average joe wooden box, there are so many options to choose from! Put a little DIY spin on your planters to make them stand out from others. The planter is a huge part of the ambiance that your garden gives off, so make it look nice!

Small planters: If you love the simple greenery pieces, then succulents are your friend! You can put succulents almost anywhere - mason jars, cement boxes, wooden boxes and more. Let your imagination run free when deciding where to hang or place your petite planters. 

Stacy Risenmay, blogger from notjustahousewife.net, has 35 planters around her home, both small and large. But, out of all the unique planters she has in her home, her favorite is one that she created herself.

"I think the tree stump planter with hairpin legs is my favorite," said Risenmay. "I love the mix of modern and rustic."

Larger planters: You can add this fun strawberry planter to your indoor garden using some wood and strawberry seeds! You'll get a beautiful plant and a yummy treat out of this project. If you want a planter that's more versatile, try out this pallet planter that can hold all your little seeds.

Planters make the perfect home decor pieces. An indoor garden makes the perfect therapeutic environment. No matter where or what you plant, it's a win win!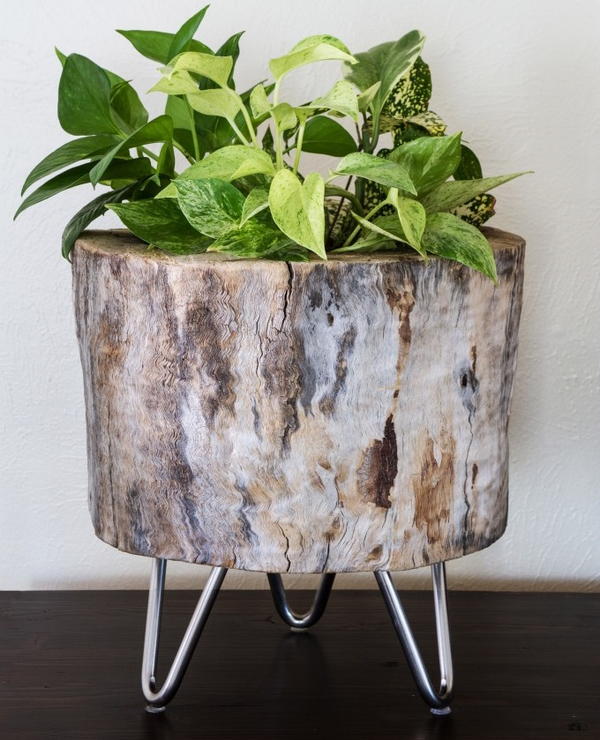 Types of Plants
This is probably the most overwhelming and stressful part of creating your indoor garden because the options are endless. You can choose any plants, flowers, fruits or vegetables your heart desires! From cute carrots to simple succulents, anything can be planted in your garden. 

Each plant has its own maintenance routine that needs to be kept up with in order for the plant to survive. Risenmay's number one gardening tip is to research your plant.
"Get to know your plant," said Risenmay. "Does it need direct light? Or indirect light? That will determine where it goes in your space. How often does it need water? Will it grow fast and need to be repotted soon? Find out as much as you can and you will be able to keep it healthy.

It's very important that you don't overcrowd your garden. While you may have many different types of plants you want to incorporate in your garden, make sure you divvy the seeds up in an organized matter. Try putting the larger plants by themselves and the smaller plants all together. This will make it easier when trying to remember what plants are where. For example, if you're a fan of herbs, create a section in your gardens for herbs only. Now, you'll have yourself a lovely herb garden.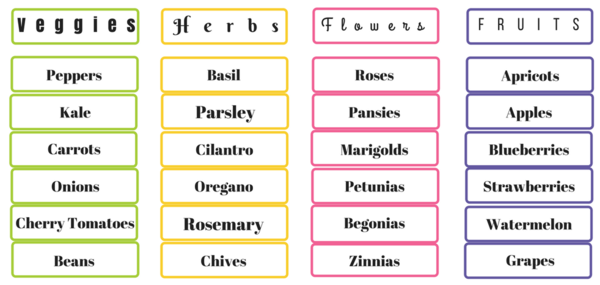 How to Keep Up With Your Garden
Now that you have your indoor garden all set up and ready to go, it's time to learn some maintenance routines. You did all of that hard work setting up your garden and the last thing you want is for it all to go to waste. 

Watering is key. Make sure the water you're using on your plants is room temperature. Also, add enough water to the point where it runs through the holes of your pot. DON'T OVER WATER. Overwatering can lead to wilting plants, leaves dropping, discoloration and a halt in the plant's growth. Use your finger to feel the soil to test how much water you need to add. If you forget to water your plants often, stick a wine bottle waterer in your pots to ensure they always stay hydrated.

Giving your plants the proper nutrients to survive is key number two. Because your garden is indoors, it needs a little extra bit of nutrients or fertilizer. Some nutrients to add to your pots are any organic fertilizers and hydroponic nutrients.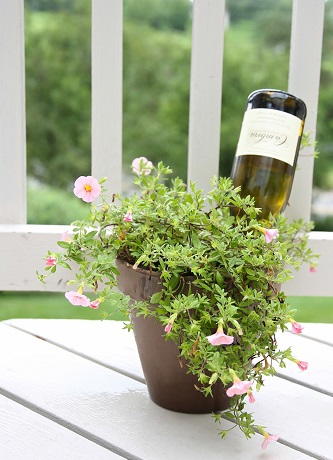 What's your favorite indoor gardening hack?
Free projects, giveaways, exclusive partner offers, and more straight to your inbox!
Tags / Related Topics
Your Recently Viewed Ideas
Images from other DIYers

Project of the Day
Plarn, or plastic yarn, is yarn made from plastic bags. Making plarn is a great way to recycle and reuse. With plarn, you can crochet… Continue reading: "Making Plarn"

Something worth saving?
SAVE all your favorite ideas
ADD personal notes
QUICKLY reference your ideas