How to Start Your Own Herb Garden
Here are some tips and tricks to help you make your own herb garden.
By:
Cathy Schutt, Editor, DIYideaCenter.com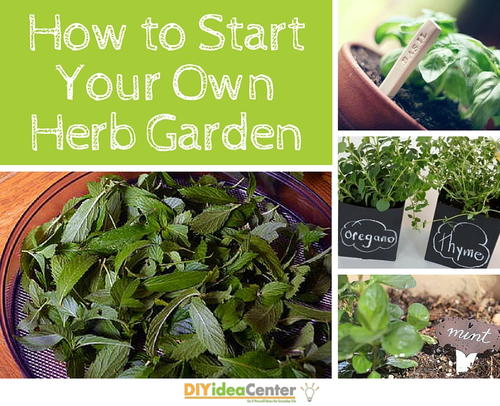 How to Start Your Own Herb Garden
Do you want to get started gardening but don't know how? Planting a few seedlings in a container on your back porch might be the best way to go. Better yet, why not plant something you can eat later? Now you can learn how to start your own herb garden and get started planting.

Herbs are ideal for keeping in large DIY planters and setting out on a sunny balcony or kitchen windowsill. They love soaking up the sun and emit a nice fragrance to give life to your kitchen. By keeping your herbs on the back porch, you can easily access your plants when you are cooking and want to add in some fresh flavors.

Keep reading for herb garden ideas as well as tips on how to make your plants happy.
Tips and Tricks for Planting Herbs
If you're getting started on your first herb garden, there are a few things you need to be aware of. Keep reading to find out what your new little plants need to grow - and thrive.
Let the sunshine in: Herbs LOVE direct sunlight. Most herbs naturally grow in Mediterranean environments, so they need to be planted a place where the sun shines at least eight hours a day. Place your container outside or on a windowsill that faces south. You can also grow herbs indoors, but they likely won't grow as well as they would outside, even if you place them in a south-facing window.

Where to start: If you're new to herb gardening, you can start with seeds or little seedling plants. Seeds are less expensive, but in most parts of the country, you'll need to get them started indoors when it's still a bit chilly outside and then transplant them when the weather warms up. You can find herb seedlings or starter packs at any garden center, but you may not find as large of a variety as you would with seeds.

Drink up: Herbs like a lot of water and, as a result, a lot of drainage. You don't want the roots to be sitting in a puddle of water, so try planting multiple herbs in a large planter with a lot of potting soil, rather than planting them in a bunch of little pots. 

Dirt makes a difference: Make sure you're buying the right kind of dirt. Something that is marketed as "potting soil" is usually poor quality and sticks together, making drainage difficult. Instead, buy "potting mix," which is lighter and made from mostly organic material, so it's better for drainage and overall plant growth. 

It's getting hot out here: Herbs love the heat. If your seedlings look kind of sad when you first start out, don't fret. Just wait for a hot and humid day, and your herbs will start thriving (just make sure you are watering them well when the temperature starts rising).

When to water: As you know, herbs love water. You can test the soil to see when it's time to water by pressing your finger into it. If the dirt is dry an inch below the surface, it's time to give your plants a drink. Herbs should typically be watered several times a week, but check them every day when the weather is warm.

When to fertilize: Regular watering tends to wash nutrients from the soil, so you'll need to add them back with fertilizer. Use a regular houseplant fertilizer at one-half dose every three weeks, or add a slow-release fertilizer to your herbs when you first plant them in your DIY herb garden. 

Say no to flowers: Since we eat the leaves and not the flowers, avoid using a flowering fertilizer on your herb plants. If they do start to flower, however, cut off the flower stems with a scissors to encourage more leaves to grow. This will also make your plants bushier and increase the harvest.

Read the labels: These are general guidelines. Not all herbs grow the same way, so make sure you read the label when buying a pack of herb seeds or a starter pot.
The Easiest Herbs to Grow
In general, herbs don't require much maintenance, but it's always good to have a starting point in mind. Here are 13 herbs that many gardeners agree are the easiest to start with.
Basil: Basil is a fragrant annual herb that loves the heat. Plant it in an area that gets 6-8 hours of full sun per day. Make sure your basil plants get plenty of water and have good drainage. Plus, learn how to trim basil (the right way)!

Chives: Chives are in the onion family and are perennial, meaning they come back on their own every year (when planted in the ground). Since they are cool-season herbs, you can plant them in early spring and take advantage of the fresh flavor early in the year.

Cilantro/Coriander: Cilantro is an aromatic herb that enjoys cooler weather and is ideal for growing in spring and fall. The leaves are called cilantro and the seeds are called coriander. Do not grow cilantro in the summer heat, as heat causes the plants to have a bitter flavor.

Dill: Dill is an annual, feathery-looking herb that is used in many soups and stews and for pickling. It grows well in full sun with lots of water.

Fennel: Fennel is a short-lived perennial that loves the sun and good drainage. It doesn't require as much water as some other herbs, so just water it when the soil is dry to the touch or when the weather is exceptionally warm. Remove the flowers to encourage bushier growth.

Lemon Balm: Lemon balm is a perennial herb in the mint family that works well in tea. It grows best in full sun with well-drained soil. Remember to remove the flowers of the plants as soon as they appear to keep the lemon balm compact and controlled.

Mint: Mint is a perennial herb with very fragrant leaves. The plants grow well in full sun if you remember to keep the soil moist. They grow best from seedlings.

Oregano: Oregano loves the sun, so give it a sunny home in your garden. It can stand up well to the heat of late summer and only needs to be watered when the soil is dry to the touch. You can easily start your oregano plants from seeds.

Parsley: Parsley is a biennial herb (comes back every two years) that makes the perfect dinner garnish and lessens the need for salt in soups. It grows well from seeds that are keep moist. When the parsley's leaf stems have three segments, it's ready to be harvested. You can also grow parsley in a pot in a sunny window during winter so you can have fresh herbs all year long.

Rosemary: Rosemary is a perennial shrub with blue flowers and is ideal for a rock garden. Remember to trim back the flowers so the leaves grow better and give you a better harvest.

Sage: Sage is a perennial with grayish-green leaves and flowers in a variety of colors. The best way to start a sage plant is to use a cutting from an existing plant. Make sure to keep the plants well watered when they are first starting out.

Tarragon: Tarragon is a perennial herb with long, light green leaves. It's best to plant seedlings or take cuttings from a friend's garden instead of trying to grow it from seeds. Prune the tarragon plants regularly to prevent flowering and to keep the plants from getting too tall (2 feet is a good height).

Thyme: Thyme is a perennial shrub that has light purple to pink flowers. It doesn't grow easily from seed, so it's best to start with some seedlings. Remember to prune the plants back and remove the flowers so the leaves will grow better.
Let us know:
Which types of plants have you grown in containers?
Free projects, giveaways, exclusive partner offers, and more straight to your inbox!
Tags / Related Topics
Your Recently Viewed Ideas
Images from other DIYers


Something worth saving?
SAVE all your favorite ideas
ADD personal notes
QUICKLY reference your ideas