Beginner Grilling: A DIY Grilling Guide
By:
Laura Plack, Editor, DIYideaCenter.com
Do you want to learn how to grill? This is the guide for you! In this Beginner Grilling: A DIY Grilling Guide, you will learn how to prep a grill, how to grill safely, tips and tricks for grilling a variety of foods, basic tools to have, how to clean a grill, and so much more! If you have ever wondered, "when was grilling invented?", "what's the difference between grilling and barbecuing?", or "how to do I even get started grilling?", you'll find those answers and more in this guide on grilling for beginners.

Why should you grill? There is nothing quite like summer grilling season. Everyone wants to enjoy the warm weather and the aromas of freshly grilled burgers, hot dogs, and more fills the air. Grilling is a beloved summer pastime. So, why is grilling so popular? Variety is a huge factor. You can cook so many different types of foods on a grill. From appetizers and desserts, to steaks and chicken, and even breakfast (!), grills are a go-to method for many who want to make a delicious home-cooked meal. Grilling can also be a healthier way of preparing food than cooking with oils. It's also convenient and a great way to cook a lot of food at once if you are having a large gathering, like a cookout for Memorial Day or the 4th of July (the two most popular grilling holidays). So if you are new to grilling, or just want to pick up some tips or grilling ideas, check out this fabulous DIY guide for grilling!
The History of Grilling

When was grilling invented?
Since the domestication of fire, grilled food has been part of the human diet. For example, in pre-Colonial times, the Arawak people of South America roasted meat on a wooden structure (called a barbacoa in Spanish). In 1897, Ellsworth B. A. Zwoyer patented a design for charcoal briquettes. In 1921, the Kingsford Products Company modernized charcoal grilling. However, the backyard ritual of grilling we have come to love has a much more recent history. Grilling happened mostly at campsites and picnics until the 1940s, but by the 1950s, backyard grilling started to catch on, particularly in suburban America. 

Where was grilling invented?
Modern Grilling:
It was around this time (the early 1950s) that George Stephen from Chicago, a welder at Weber Brothers Metal Works,  invented the Weber Kettle, a domed grill that came to be widely used by grilling fans.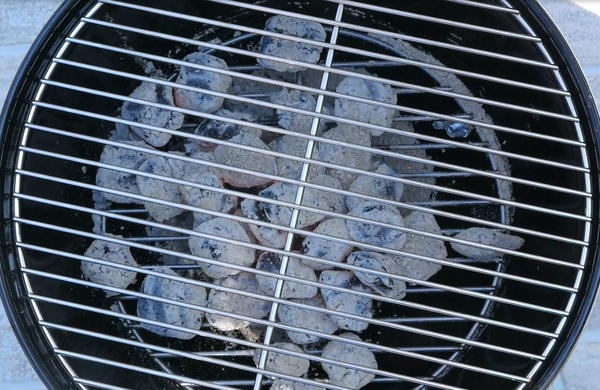 What is the Difference Between Barbecue and Grilling?

Grilling vs BBQ
Do you know there is a difference between grilling and barbecue? There is! The difference is mainly temperature and time. Grilling is done over direct heat at high temperatures. It's cooking food fast and hot and directly over fire. Barbecue is cooked over coals at low temperatures using indirect heat by pushing coals to one zone of the cooker and the meat to another zone. It can take hours to barbecue. According to forkful.com, "Meats being barbecued are cooked for a long period of time (2 hours up to 18 hours) by the smoke and heat produced from the burning of wood or coal". So now you know if you are invited to "grill out" it'll be quick (burgers, veggies, etc) and if you are invited to "barbecue" prepare for a longer event!
So you're a food fan...If you are a fan of grilling, you may also be interested to know there are many homemade alternatives to store-bought goods that you can make! Become the master of your kitchen with these simple food hacks and tutorials! Fabulous Food Ideas: 19 DIY Food Tutorials
Beginner Grilling: How to Prepare a Grill
How to Prep a Charcoal Grill:

1. First, take off the top grate on the grill. 

2. Then, place the ash receiver on the bottom grate of the grill. 

3. Next, place crumbled paper doused in oil in the bottom of your ash receiver.

4. Flip your ash receiver around so the paper is facing the bottom of the grill.

5. Then, place charcoal in the top of the ash receiver. 

6. Next, light the crumbled paper using a lighter. 

7. Allow coals to get white hot and then grab the handle of your ash receiver (cautiously) and dump white hot coals in the grill.

8. Finally, place the top grate back on top of the grill.

Then begin grilling your favorite recipes!
How to Grill Safely: Beginner Grilling Tips
Grilling safely is of the utmost importance! As with many types of cooking, there are significant dangers if you don't take the proper precautions when handling food. However, that doesn't mean you should ban grilling food from your diet. For beginner grilling especially, take into consideration tips for grilling and enjoy grilled foods that are flavorful (but also safe).

For more grilling tips, check out our free, printable infograph on safe grilling: How to Grill Safely

This reference guide on How to Grill Safely will tell you how long you should cook your meat, the inside temperature the meat should have, and when you should cook items over direct or indirect heat.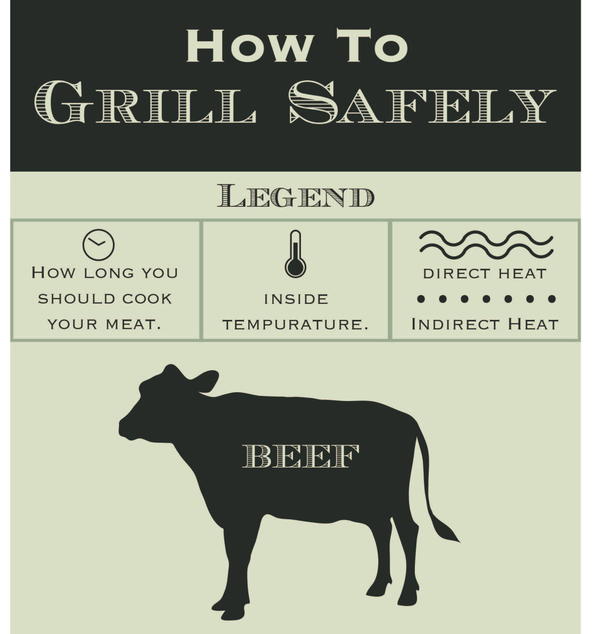 Grilling Safety for Beef
How to Properly Cook Beef
If you're new to cooking, a former vegetarian, or just have general anxiety when it comes to cooking meat, it's important to learn how to go about the process properly and safely. Check out this free printable guide: How to Properly Cook Beef [Infographic]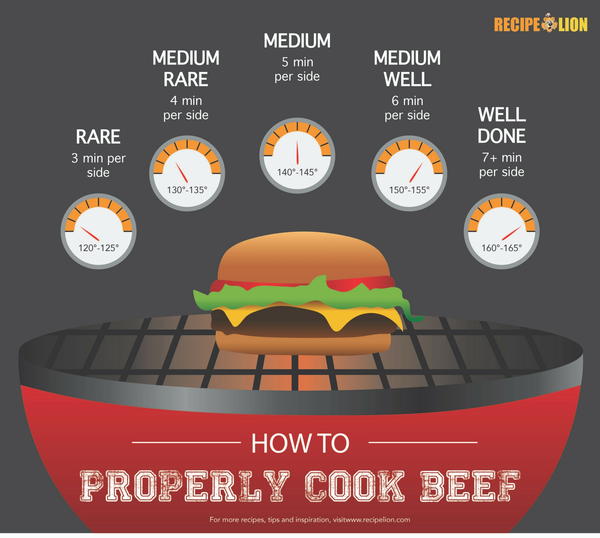 How to Grill Hamburgers
If you are new to grilling, one of the easiest foods to make on a grill is hamburgers. In this section you will find a basic grilling guide for hamburgers and several of our favorite hamburger grilling recipes. Plus, as added bonus, we have some tutorials on how to make your own hamburger buns!

Grilling tips for hamburgers:
Prepare your burger patty meat the way that you like.
Then, place hamburger meat down on already prepared coals. 
Next, cover the top of the grill and allow the burgers to cook for 5 minutes.
After 5 minutes flip the burgers once. 
Recover the grill and let cook for another 5 minutes. 
Finally, remove from grill and enjoy! 
 
The best burger recipes:
Bonus Homemade Hamburger Bun Recipes:
How to Grill Steak:
Burgers not your fancy? Don't fret, check out this helpful guide from our friend's at
Recipe Lion
on how to make the perfect grilled steak!  
How to Grill the Perfect Steak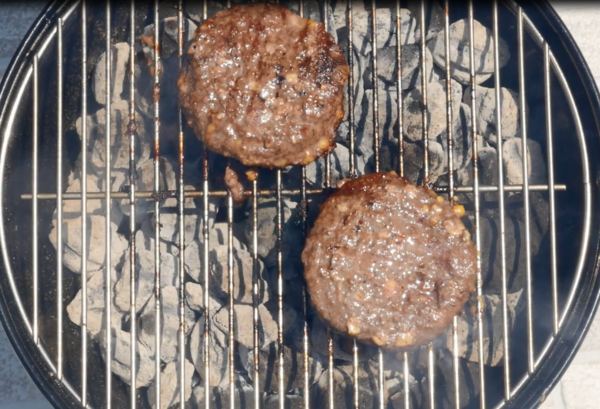 How to Grill Chicken
Grilled chicken is a well-loved ingredient in many recipes. Follow this basic grilling guide for chicken and learn how to cook chicken on the grill with ease. Plus, check out some of our favorite grilled chicken recipes below!

The Best Way to Grill Chicken:
First, marinate the chicken breasts to your liking. 
Then, place marinated chicken down on the prepared coals. 
Next, cover the chicken with the top of the grill and allow to cook for 8-10 minutes. 
Flip the chicken over onto its other side. 
Then, allow the chicken to cook another 5 minutes. 
Finally, remove the grilled chicken from the coals and enjoy! 
 
The Best Grilled Chicken Recipes: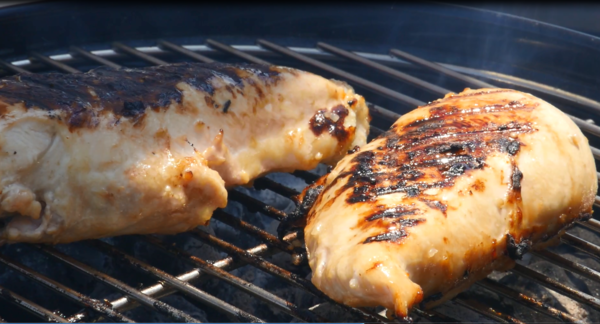 Grilled Fruits, Vegetables, and More
Think that grilling is meant for only meat-lovers? Think again! You can grill an incredible variety of fruits and vegetables on the grill. From simple grilled peaches to scrumptious grilled stuffed peppers, there is something for everyone in this section of grilling recipes. So whether you want to try out grilled pizza, or you are looking for a tasty side to add to your next cookout, check out these fabulous grilling recipes!

Grilled Fruit Recipes:
Grilled Vegetable Recipes:
Grilled Hot Dog Recipes, Grilled Pizza Recipes, and More:
For even more grilling recipes, check out this collection, from our friends at RecipeLion: 
23 Grilling Ideas for Dinner!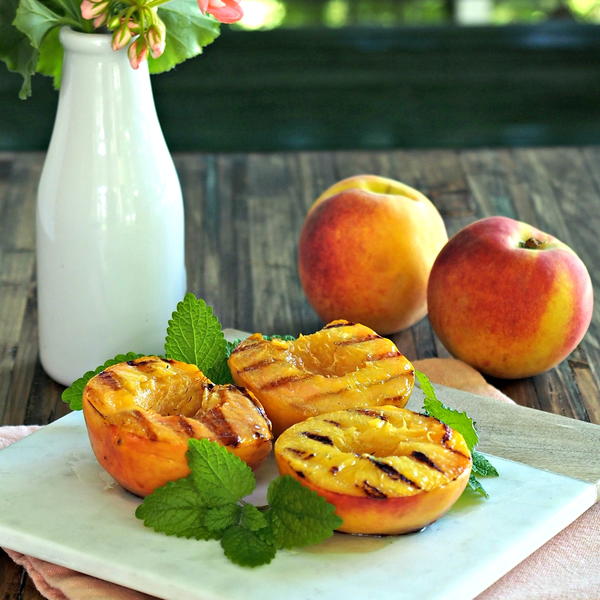 "Grilled peaches are just as beautiful as they are delicious and can be used to add color and flavor to salads, side dishes, desserts and appetizers.  Let your imagination fly.  For a great dessert serve with ice cream or any variety of toppings and sauces. To serve as a salad, top with crumbled goat cheese, chopped nuts and drizzle with balsamic vinegar. Oh my goodness...my family and I love this simple and healthy addition to our summer meals."

--Susie Gall, Simply Sated
How to Clean a Grill: Beginner Grilling Tips for Grill Maintenance
For beginner grilling, one of the things you should remember is that if you are going to make grilling a consistent activity in your life, or if you want your grill to last longer, you need to maintain your grill. One of the best ways to maintain your grill properly is to learn how to clean a grill the right way.

Basic grill clean tips!

Watch our video on How to Clean a Grill! 
First, using a grill scraping brush, scrape your grill while it is still hot.
Next, wet a paper towel, and use some tongs to hold it. 
Then, using the paper towel wipe around the grate of the grill while it is still hot. This helps to get into the grooves of the grate. (This step is becoming increasingly important to make sure that any pieces of the grilling brush that have fallen off are wiped off the grilling grate). 
Finally, allow your grate to cool. 
 
More ways to clean a grill: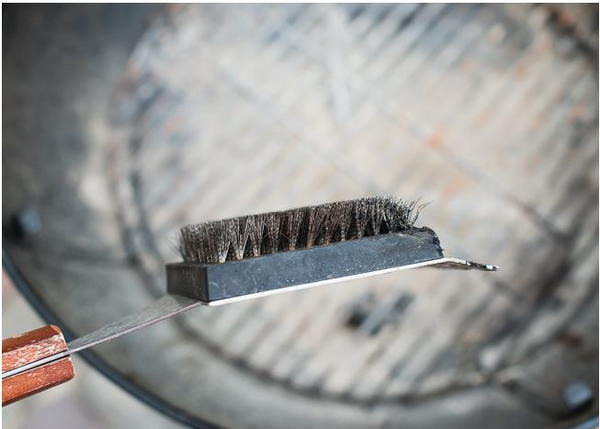 "Regular (and super quick!) maintenance is the easiest way to keep your grill in tip-top shape. My husband is diligent about cleaning our grill after each use. You don't want to open the lid and find a stuck-on greasy mess right before you cook!"

---Stephanie Gerber, Hello Glow
Grilling Station Essentials: What to Have at Your Grill Station
Besides the grill itself, there are some basic grilling supplies and tools you'll want to gather to have the best grilling experience! As an added bonus, we've added additional ways to upgrade your grill and grilling station below!

Basic Grilling Tools and Supplies:
Upgrade your grillling station:
Basting Brush
Grill Basket
Wood Plank
Skewers and Shish Kebabs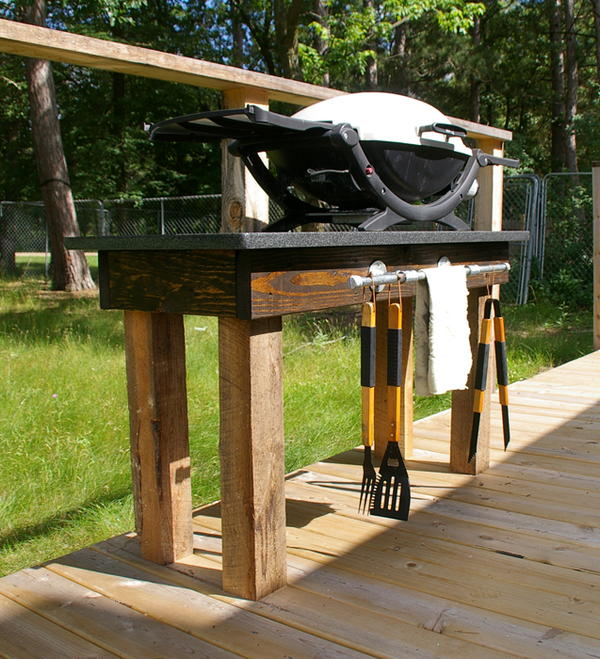 Why use granite for your grill station:

"We live in northern Minnesota so when the weather finally breaks for summer we spend as much time outdoors as we can! The key to furniture (and grills) surviving winters like ours is to either cover them well, get them out of the elements or, if that's not possible, to choose surfaces that won't be harmed by snow, ice and cold! Which is why the granite I put on top of our grill station was perfect for us."

-Tarah Lynn, Grandma's House DIY
More Beginner Grilling Ideas + Grilling Condiment Recipes
Upgrade your grilling recipes with homemade condiments! Below you will find DIY condiment recipes, DIY serving trays (to display your grilled dishes with pride, and an extra section of bar cart tutorials (so you can have refreshments readily available to serve with your grilled meals!).

Condiment recipes:
DIY Serving Trays:
DIY Bar Carts
What is your favorite grilling recipe?
Free projects, giveaways, exclusive partner offers, and more straight to your inbox!
Tags / Related Topics
Your Recently Viewed Ideas
Images from other DIYers


Something worth saving?
SAVE all your favorite ideas
ADD personal notes
QUICKLY reference your ideas