How to Make a Gallery Wall
Start your gallery wall today, and adore your lasting DIY wall decor for years to come!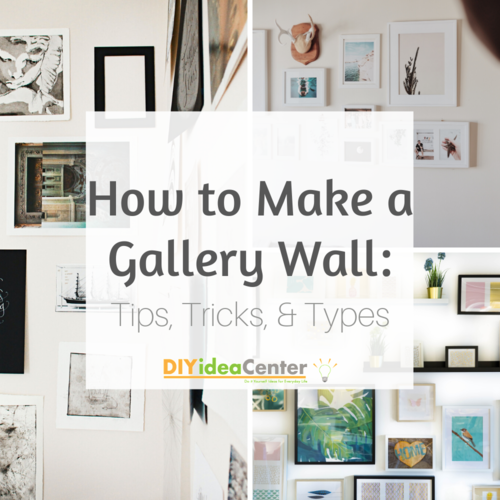 Gallery walls have become increasingly popular types of DIY wall décor over the past few years, and now is the best time for you to add one to your home. The best thing about gallery walls is that they are completely customizable to your needs and desires, and you can include as many or as few photos and items as you choose. This guide will teach you how to plan for your gallery wall and the best ways to organize your gallery before nailing anything up.

Enjoy yourself as you learn more about gallery walls and research what you want to hang up on your own. This is a DIY home décor adventure, and you are in charge of what direction you go in with your gallery wall.
Research Your Gallery Wall: Before you start building your gallery wall, you should look at examples of this DIY wall décor that others have done. A great place to do this is by searching around on Pinterest, which has pictures of every variety and type of gallery wall that you might want to implement in your home (recommended searches are "gallery wall," "gallery wall ideas," and searching for ideas for the room you want to put a gallery wall into in your home
Pick a Unifying Theme: It is important to know what kind of images you want to display on your gallery wall. Displaying family photos might look better oriented one way on your wall, while organizing posters or images from your world travels might look better another way. If you want to have a theme—such as a beachy theme, a theme based on a location (such as a city you love), or focus on family—it's good to figure that out early on in the process.
Decide on a Color Scheme: This may or may not be important to you, but deciding if you want your gallery wall in a specific color scheme is as important as deciding that you don't want that. Color scheme decisions can refer to frames (do you want them to all be the same color, or mix and match?), images (do you want them to be in color, sepia, black or white, or something else?), and the assorted knickknacks and other non-image items that you want to display on your wall. For example, you might want to use gold frames (perhaps mixing and matching them based on detail rather than color) with black and white images and gold knickknacks. Or, you might want to go with an ocean theme—thus, making sure everything is nautical or in shades of blue.
Collect Your Items: If you're interested in creating a gallery wall from scratch (rather than collecting photos and items first), then now is the time to do it! Head to thrift stores for frames and look through online retailers for custom prints. Print out photographed memories and dismantle some old scrapbooks. The possibilities are endless, and researching other gallery walls early on in your process can help you figure out exactly what you want to include in your own.
Plan Your Placement: One of the most important things about organizing your gallery wall is placement. The most common type of gallery wall (displayed throughout this article) is referred to as "The Classic" or "The Salon" (depending on the orientation of your gallery wall) by FrameBridge, but there are also "The Ledge," "The Column," and "The Grid". It is possible to use aspects of various types of gallery walls in your design, but it is important to plan out how you want your photos, posters, and knickknacks organized before you start nailing anything up. Keep reading below for tips and tricks for how to plan out your gallery wall item placement!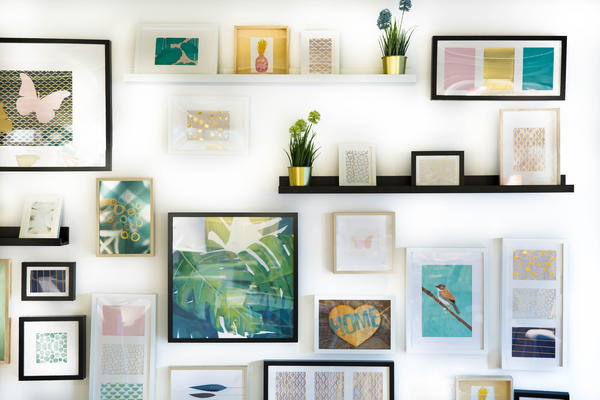 Gallery Wall Layout Tips
While gallery walls can be added to over time and are buildable pieces of wall décor, rather than staying the same forever, it is usually helpful to do a little bit of planning into the placement of your items before you start nailing anything up. Collect your photos, posters, knickknacks, and whatever else you want to include on your gallery wall before you begin. Ask yourself if you want to incorporate any other types of gallery walls (such as including a shelf in your design) and plan for that. The best ways to plan out your organization before you start hanging things up are:
Paper Cutouts: Trace each item you are planning to hang up onto a piece of paper and cut the pieces out. Start taping the pieces to the wall and adjust them until you are satisfied with how the wall looks. Leave enough space between each photo or item, and think about how this wall will work around your furniture and anything else that might be around it. This is a great way to easily change up your plan repeatedly, only having to unstick the paper from the wall and place it somewhere else. Once you have your plan down, hammer nails right through the paper, and then rip the paper off (to ensure that the placement is just right). Then hang up your gallery wall, and you're done!
Floor Layouts: If you don't want to go through the trouble of tracing, cutting, and taping again and again, you can lay out all of your gallery wall items on the floor and organize them as if they were on the wall. This method is less exact than the first, as you have to transfer the plan from the floor to the wall as an additional step, but it can help you get a feel for your collection before you begin putting everything together.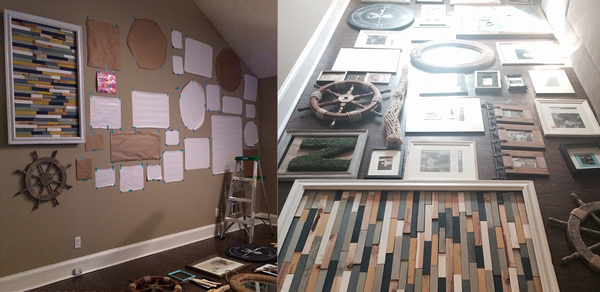 If you're interested in getting creative and playing around with all sorts of frames and items, colors and textures, then check out this tutorial for a Massive DIY Gallery Wall
How to Arrange Your Wall Art
When it comes to actually deciding where to place your items in relation to your photos, and even when deciding where on the wall to place your gallery, it's important to take a minute to think about it. Here are some final pieces of advice about how to arrange your gallery wall. Good luck!
If you're placing your gallery wall above furniture, HGTV recommends that you leave about eight inches between the top of the piece of furniture and the bottom of the lowest frame.
For the best results, make sure that your gallery wall is at eye level. At least, place your center eye-catching piece at eye level, even if you have radiating images and items that go lower or higher than that.
Mix and match everything for an eclectic, organic look. Using different frame sizes, colors, and orientations (portrait vs. landscape) can turn your gallery wall into something exciting. Adding pops of color here and there can also be the way to brighten up your whole space.
Your gallery wall can be as simple or as complicated as you want. Listen to your heart, first and foremost, and don't take on too great of a project just because Pinterest told you to.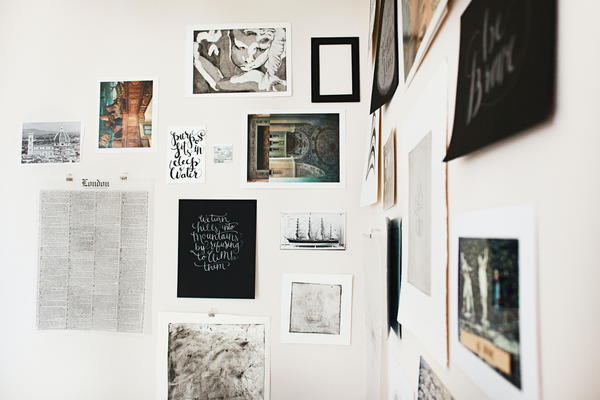 Free projects, giveaways, exclusive partner offers, and more straight to your inbox!
Tags / Related Topics
Your Recently Viewed Ideas
Images from other DIYers


Something worth saving?
SAVE all your favorite ideas
ADD personal notes
QUICKLY reference your ideas