CoffeeTEAM PRO Plus with Thermal Carafe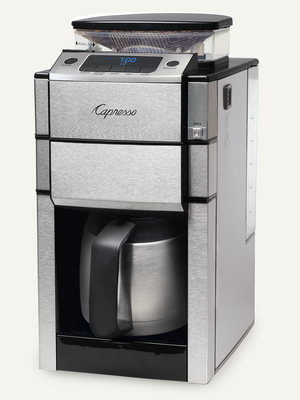 CoffeeTEAM PRO Plus with Thermal Carafe
Gifted by: Capresso
www.capresso.com
Reviewed by: Dana Byerwalter, Editor, DIYIdeaCenter.com


Grind your coffee and brew it in one fell swoop! The CoffeeTEAM PRO Plus with Thermal Carafe from Capresso features a 10-cup digital coffee maker and conical burr grinder in one complete unit. Enjoy the taste of freshly ground coffee each time you brew with the CoffeeTEAM PRO Plus.


Fans of whole bean coffee are sure to appreciate the simplicity of having the grinder and coffee maker together in one machine. Be sure to read through the manual in full before you use it; you'll learn helpful information about this advanced coffee maker. For example, when you first plug it in the coffee maker will beep at you to set the time. You can't brew anything until you've set the time. The digital display allows coffee lovers to program a time to automatically brew; talk about a wakeup call! When I tried this coffee maker for the first time, I expected it to be loud because it literally includes a grinder! I was pleasantly surprised that it was quieter than expected. I would compare the noise level to that of an automatic paper shredder. If you live in a house where the bedroom is far from the kitchen, the noise shouldn't be too alarming early in the morning. However, dwellers in small apartments or condos may want to wait until later in the day to grind the coffee.

Using the coffee grinder/maker is easy once setup is complete. Get to know your machine by cleaning all the parts before initial use (carafe, basket, reusable filter, water tank, coffee scoop, etc). If you've never used a coffee grinder before but are familiar with brewing coffee normally, you're in good shape to learn about this machine. The grinder channels the freshly ground beans down a chute and into the basket as it would brew in any traditional coffee maker. In fact, if you have ground coffee on hand you could use this coffee maker without the grinder: simply select the ground coffee button before brewing.

You can fill the beans as high as you like in the bean container. When you brew coffee using the grinder, you'll select how many cups to brew on the digital display. This way, the grinder measures out the coffee for you and it will use as many beans as it needs. If you have particularly oily beans, there is an "oily" button below the digital display as well which slows the grinding process for these "slow moving" beans. Only use this setting for oily beans; otherwise, the coffee filter could overflow. There are settings for fine, medium, and coarse grinding. Be sure to use the coarse setting initially, and always use the coarse setting for oily beans. Do not use the fine setting if you are brewing more than 8 cups because it could cause the basket to overflow.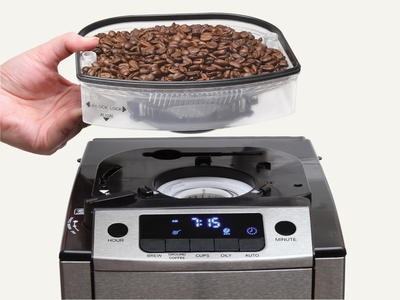 Because the freshly ground coffee filters into a chute, the machine will likely occasionally get clogged. There is a special grind and clean cycle which helps clear light clogs, and the coffee maker also comes with a small brush to clear out the chute for heavier clogs. The machine is meant to handle all manner of coffee beans from the lightest and driest to the darkest and oiliest. Be sure to take care when using the machine and clean it out regularly to extend its life.


The smell of the coffee alone when brewing using the grinder is enough incentive to invest in a machine like this! As I tested this coffee maker in the staff kitchen, people kept passing through and mentioning how wonderful the coffee smelled. It really does give off a stronger aroma than ground coffee. Another quality a few fellow employees commented on is the futuristic look of this coffee maker. This sleek coffee maker with its stainless steel finish adds a touch of class to any kitchen, and the matching carafe keeps coffee hotter longer.

I tend to add a generous amount of cream and sugar to my coffee so the difference in taste wasn't as obvious to me as the markedly stronger, delicious aroma. Some of my fellow coworkers who drink their coffee black, however, noticed a stronger and more flavorful richness to the coffee. One employee enthusiastically commented on the brand of coffee we tested out, and he said the coffee tasted "incredible!" Another coworker who used to have a grinder/maker combination machine said Capresso's CoffeeTEAM PRO Plus is much quieter than her machine.

For fans of whole bean coffee, a machine like the CoffeeTEAM PRO Plus is an excellent investment! Grind coffee beans and brew coffee at once with this sleek and stunning system.

Do you prefer to grind coffee beans or purchase grounds?
Free projects, giveaways, exclusive partner offers, and more straight to your inbox!
Your Recently Viewed Ideas
Images from other DIYers


Something worth saving?
SAVE all your favorite ideas
ADD personal notes
QUICKLY reference your ideas