Macrame for Beginners: Our Ultimate Guide
If you've been wondering how to macrame, look no further!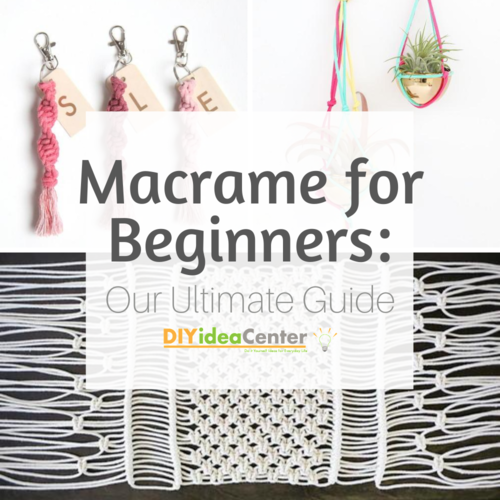 This essential guide for how to macrame is exactly what you need to learn more about this fantastic type of crafting and how to start out as a beginner to the technique. Macrame is a unique form of textile created through tying knots (rather than weaving or knitting as with other similar techniques). These knots are created with your hands and no other tools are specifically required, other than a ring or something similar to keep your piece in place while you work. Macrame is popular in its many forms, whether used as an intricate wall decoration or a hanging plant holder or even as wearable fashion such as earrings. These pieces can range from a couple inches wide to giant masterpieces and can be incredibly varied in design and pattern depending on your artistic direction.

Macrame utilizes cords made of twine, linen, jute, hemp, leather, or yarn. If you are a beginner macrame maker, feel free to use whatever you have on hand and choose a simple design so that you do not get overwhelmed immediately.

If you love DIY projects and crafting, be sure to sign up for our free eNewsletter, Daily Dose of DIY! Get fresh craft projects and tutorials delivered to your inbox daily.

Click here to sign up for our newsletter!
History of Macrame
The origins of macrame are somewhat unclear, but various historians credit the first macrame crafting to the ancient Arabs, Assyrians, or Babylonians. The word itself comes from either miqramah, an Arabic word meaning "striped towel," "ornamental fringe," or "embroidered veil," or from makrama, a Turkish word meaning "towel" or "napkin". It is believed that Macrame spread to Europe through the Umayyad Conquest of Spain in the 8th century AD, where it eventually became popular in the monarchal courts of Europe. Macrame was most popular in the Victorian era, when Sylvia's Book of Macrame Lace (1882) detailed how to use the textile creation in various ways.

Macrame fell out of fashion for the majority of the 20th century (something uncommon for it, as it seems to come in and go out of fashion quite frequently throughout its history) but saw a resurgence in the trend in the late 1960s, lasting until it fell out of fashion again by the early 1980s. It has recently been brought back by millennials as a large home decor trend, making DIY macrame tutorials more popular than ever.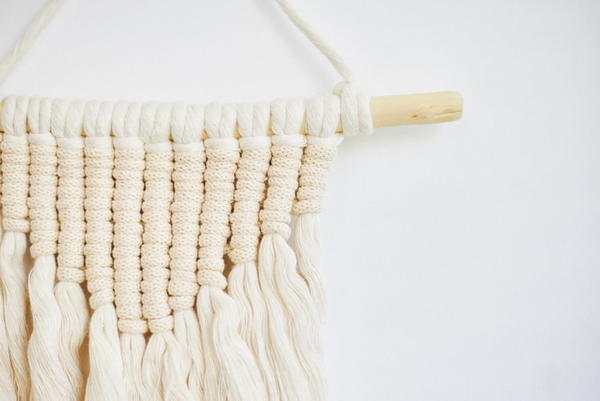 How to Macrame
Feel free to use whatever cord material you have on hand, whether it's yarn, twine, or something else. The first knot every macrame crafter needs to know is the Lark's Head or Cow Hitch Knot, as this is the knot used to secure the cords to an object (such as a ring or a dowel). Other important knots for beginners to learn are the Square Knot, Half Knot, Spiral Stitch, Clove Hitch, Overhand Knot, and Gathering Knot. To ensure your success in macrame crafts, follow the tips below.
Choose A Simple Pattern: As a beginner, you don't want to overwhelm yourself with something too difficult that might just end up with you getting frustrated and giving up. Choose a pattern with one of the knots above, and practice the knots before you start. Don't be afraid to make mistakes! 
Make Something Wearable: Making earrings or a necklace will ensure your project is small and manageable, and is also something you can show off to others easily!
Use What You Have: Once you practice your macrame knots and crafts more, feel free to invest in cords that match the aesthetic you are trying to achieve. However, don't do this too early and use whatever you have on hand to start out. This can be any leftover yarn from any knitting, crocheting, or other crafting.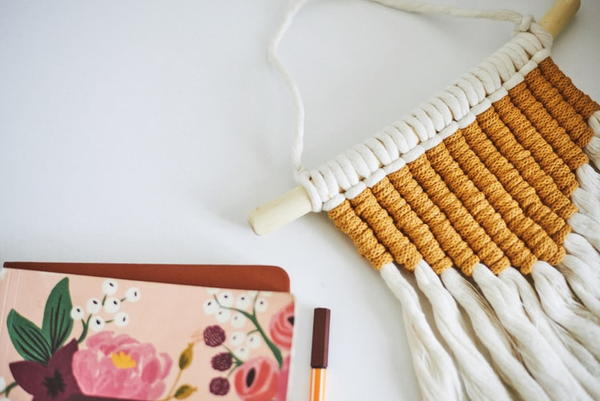 Types of Macrame
Macrame is seen most commonly as wall decor, but it can really be made into anything! This includes wearables like keychains, earrings, and necklaces, as well as other home decor such as shower curtains and table runners. You can also use macrame with your hanging plants, air plants or otherwise. Here are some macrame tutorials to get you started: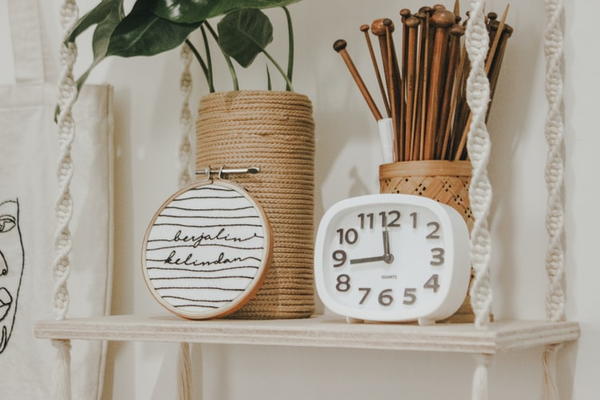 Free projects, giveaways, exclusive partner offers, and more straight to your inbox!
Tags / Related Topics
Your Recently Viewed Ideas
Images from other DIYers


Something worth saving?
SAVE all your favorite ideas
ADD personal notes
QUICKLY reference your ideas