How to Hang Curtains: Placement, Installation, and DIY Curtains
By:
Rebecca Gonner, Editor, diyideacenter.com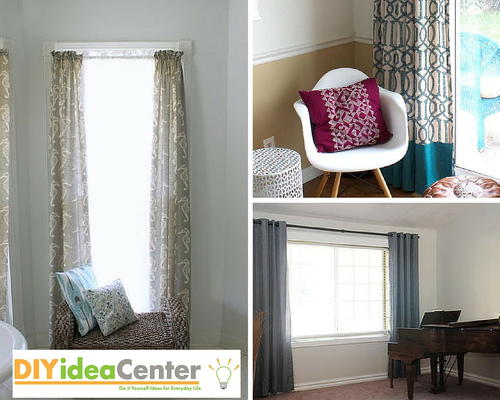 How to Hang Curtains Placement Installation and DIY Curtains
If you've ever been in a room without windows, you know how nice they are to have around. Sometimes though, you don't want all that light streaming in, and that's where this How to Hang Curtains: Placement, Installation, and DIY Curtains collection comes in handy! Knowing where to hang curtains and how to properly install a curtain rod aren't exactly instinctual. Here, you'll find the basic guidelines for hanging curtains and thirteen DIY curtain projects that range from sewing tutorials, no-sew projects, and how to make curtain rods. With these DIY projects, you can have the perfect curtains for your home and place them in exactly the right spot.

Having well-placed curtains can do so much for your home decor. When you hang long curtains, the effect can make the room look taller. Different styles of curtains can also change the atmosphere of a room. Sewing elegant drapes gives a room a sophisticated air, while making roman shades creates much more casual feel. This DIY tutorial describes the best curtain rod placement for long curtains and outlines some basic tips for its installation. Grab your DIY curtain rod and measuring tape; with these DIY instructions, you'll be hanging your curtains in no time.
 
How to Hang Curtains
Materials
The first step to deciding where to hang curtains is gathering the proper materials. The first item on this list should really be a buddy since hanging curtains is significantly easier with one or two other people to help out. Especially if you have a wide window with a long curtain rod, you'll want someone to hold up the other end when hanging it up. 
Curtain Brackets (consider whether your rod is long enough to need a third bracket in the middle for added support. This may also be necessary for heavier curtains.)
Finding Wall Studs
Anytime you want to drill into your wall to hang something, it's best to drill into a stud. When you mount your DIY wall decor on studs, you know you aren't damaging anything important like pipes or wiring, and you know you have a sturdy hold that can handle the weight.

Place your stud finder against the wall above your window. Start at the outer edge of one side of the window frame and slowly slide your stud finder outwards until the light changes, indicating a stud. Stud finders can work differently, so be sure you know whether yours detects the edges of studs or the center. Use a pencil to mark the stud and repeat this process on the other side of the window frame.
Measuring Curtain Rod Placement
Grab your measuring tape and measure 5''-10'' above your window in line with your wall studs, depeding on how much space you have between the window and the ceiling. Having two buddies really comes in handy for determining exactly how high you want your curtains to hang, since they can hold the rod at different heights while you look from a distance. You want a decent amount of space between the top of your window and your curtain rod to give your windows a taller feel. Once you've determined exactly how high you want your curtains to hang, make this spot with a pencil.

Your wall studs will help you determine where you'll attach the curtain brackets, and how far out your rod will need to extend. Always be sure you rod is at least 6'' longer than the distance between your curtain brackets.

Pro tip: If you have cardboard laying around, you can create a template for where to place you curtain brackets. Simply grab a rectangle of cardboard and cut out a corner so it will fit evenly against the top corner of you window frame. Then, measure from the corner you cut where you want your brackets to go. Cut the cardboard to reflect this measurement. Then, simply fit the template into the corner of your window frame and mark where your bracket will go with a pencil.
Drilling the Holes
Now that you've measured and marked where your brackets will go, you need to hold them to the wall in position and mark with a pencil where the screws will go in. Once you've done this on both sides and in the middle if you have a third bracket, take your drill and make the holes where you screws will go. Pre-drilling the holes protects against splitting the wood, which can happen when you drill a screw straight into a wall without a hole to guide it. Drill in your brackets and insert your curtain rod. Use your level to be sure that your curtains won't be slanty.
Add the Curtains
Once you're sure it's level, remove your rod and attach the curtain. Re-hang you curtain rod and proudly display your new draperies.
Where do you want to hang curtains in your home?
Free projects, giveaways, exclusive partner offers, and more straight to your inbox!
Tags / Related Topics
Your Recently Viewed Ideas
Images from other DIYers


Something worth saving?
SAVE all your favorite ideas
ADD personal notes
QUICKLY reference your ideas