Flowers 101: The Basics of Arranging and Caring for Flowers
By:
Rebecca Gonner, Editor, diyideacenter.com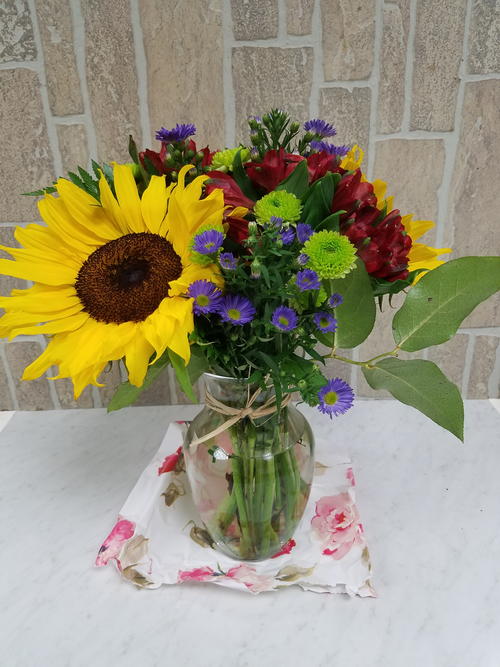 Flowers 101 The Basics of Arranging and Caring for Flowers
Wouldn't it be lovely to have the fresh smells of a garden indoors? This Flowers 101: The Basics of Arranging and Caring for Flowers can help you achieve just that. Imagine having the floral fragrance and amazing aesthetic of a beautiful bouquet right in your home; and, you can create the arrangement yourself! Below you'll find tips and tricks for creating a beautiful flower arrangement, as well as ways to make your flowers stay fresh and vibrant longer. Whether you are creating it for yourself or a loved one, you can learn the basics for caring for and arranging flowers.

Flowers are such a classic gesture, and they can be used in so many different situations. You can give flowers as a romantic gesture to a love interest or long-time partner. Flowers can simply let a friend or family member know you've been thinking of them. A well-arranged bouquet makes a lovely gift for birthdays, anniversaries, or Valentines Day. Best of all, flowers can simply be a nice centerpeice for a dining room table or kitchen counter. Don't forget that a beautiful flower arrangement can always be complimented by a beautiful DIY flower vase.
If you love plants then check out these great garden ideas: 
How to Arrange Flowers
A well-arranged vase of flowers adds a cheery feel to any room. Also, let's not forget the delicious aroma that comes with a fresh bouquet. If you would like to make your own flower arrangements, then check out the flower arranging tips and tricks below!
Tools
Having the proper tools for flower arranging makes all the difference in simplifing the process and giving your bouqet a professional look. Below see a list of the tools you'll need to make a stellar flower arrangement.
Start with a clear, flat space to work, like a table or countertop. Keep a garbage can and a towel nearby to use as you work.

You'll need decent cutting tools for trimming stems and removing leaves. This could be a sharp pair of scissors or pruning shears if you have them.

There are many options for tools to keep stems in place when you design your own bouquet. Here are some of your options:

Rubber bands can help to keep bunches of flowers close together. If you have a clear vase, then try clear rubber bands, but if your vase is opaque you can use a normal rubber band.

Floral foam helps hold flowers in place when arranging, and is inexpensive. If using floral foam, cut your stems at an angle and start with thinner stems and move to thicker stems.

Floral tape can be used for many purposes, such as holding stems or floral foam in place.

Floral frogs can be placed in a vase to hold flowers as well, and they come in different shapes and sizes to accomodate your vase.

Floral clay works well to hold floral frogs in place and support prongs that might hold other elements of the arrangement.

You may end up with some stems that are a bit too short for your vase, so you can use a couple different tools to lengthen them.

Floral stakes can lengthen stems and support heavy blooms that want to droop.

Floral wire also works well to lengthen and support stems.
Choosing Flowers
Possibly the best and hardest part of flower arranging is picking out the flowers you'll use. Here are some suggestions for choosing flowers and where to find them.
The obvious choice for buying flowers is a local florist. A florist is the best place to get quality suggestions or advice, but can be a bit more expenive.

Many supermarkets will have a section for flowers and other plants, and while the selection may not be as large, you can still find some great flowers there for a decent price.

When picking your flowers, consider whether you want a variety of shapes, sizes, and colors, or if you want a simple bouquet of one type and color.

If you want to go with a variety of flowers, it's good to get a few large blooms, and smaller blooms to fill in the rest.

When you know the type of flower you want, be sure they look fresh and healthy. It's good to check the stems in particular for bruising or brown spots. If a bloom is already fully open when you buy it then it won't last long on display, so get flowers that still need to open some.
Creating your Floral Design
Now that you've bought your flowers, you need to prep them and arrange them. Below are the basics of preparing flowers for the vase and some tips for arranging them.
You'll want to trim the stems before putting them in the arrangement, but be careful not to cut too much! Remember, you can always make a second cut if the stem is still too long, but once you cut it too short there's no going back.

When arranging, remember to have fun! There are no rules; just let your creativity lead the way. One thing to keep in mind, though, is avoiding a pattern. If you want your bouquet to look natural there needs to be an element of randomness to it.

Some ways to avoid a pattern are to cluster flowers in groups, which looks more natural than a single blossom, and to place all of one type of flower before moving on to the next.
How to Keep Flowers Fresh
When you're going through the effort to create a beautiful bouquet, or even if you are given a beautiful bouquet, you want the flowers to last as long as possible. Here are some tips and tricks to make flowers last longer.
The most important step to preserving cut flowers is keeping them in water. If you buy from a florist they may include water vials on each of the stems, which will help the flowers survive transportation. If you know you won't get vials when you buy your flowers, a wet rag to wrap the tips in can help.

Trim and rinse the stems and get the flowers in a vase of water as soon as you can. Keep them in water while you arrange and after the bouquet is complete. If your blooms look a little droopy while on display, misting them with water from a spray bottle may help.

Change the water when it begins to look cloudy. If you are using floral foam, water your flowers daily.

Adding a floral conditioner or flower food to the water you keep your flowers in helps give them nutrition that they are no longer getting from the soil. Ask whomever you buy your flowers from about this.

Trim off any leaves or foliage from stems that will be below the water line. This will help prevent bacteria from growing in the water.

Cut flowers will survive longer if kept in cooler, darker places. It's suggested to keep flowers at 40 to 45 degrees farenheit if possible.

Be sure the home you decide to keep your flowers in, whether it be a classic vase or an innovative planter, is clean before putting your flowers in it. Using a dirty vase or planter can cause bacteria to develop that will kill your flowers faster.
Free projects, giveaways, exclusive partner offers, and more straight to your inbox!
Tags / Related Topics
Your Recently Viewed Ideas
Images from other DIYers


Something worth saving?
SAVE all your favorite ideas
ADD personal notes
QUICKLY reference your ideas