Are There Air Mattress Alternatives?
Looking for an alternative to air mattresses for guests? We're here to help!
By:
Carly Nicholas, Editor, DIYIdeaCenter.com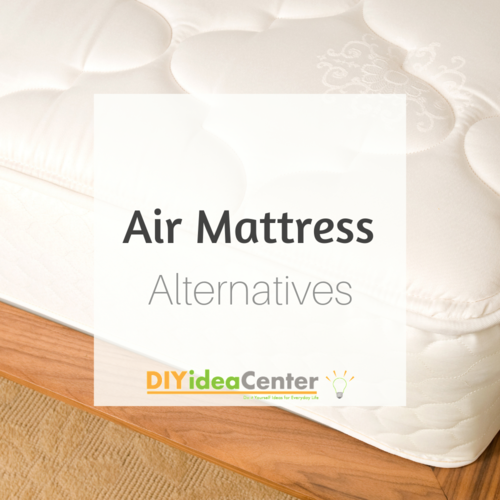 Picture it: You're staying over at a friend or relatives house and they have you set up with an inflatable mattress to sleep on. You fall asleep with a firm, somewhat supportive mattress, only to wake up on the floor with the deflated mattress carcass as the only cushion between you and the floor. 

Yes they're convenient, but air mattresses aren't always the most reliable beds to sleep on. No one wants their guests leaving their home with sore backs and bags under their eyes, but if you have a small space, a guest room with a full sized bed isn't always an option.

So, what's a host or hostess to do? Don't fret, because we've got you covered on the pros and cons of popular air mattress alternatives on the market. 
Futons
No, you didn't accidentally step back into your freshman dorm room. Commonly known as the furniture for college students or bachelor pads, this piece easily converts from a couch into a full sized bed that can sleep two people (or so it claims). They get their collegiate reputation from their smaller, lighter frames that make them a good choice for a small space, such as a dorm room. But with the minimalist design trend of recent years, futons have taken an upscale turn in style, and are no longer the eyesores that we usually assume them to be. Style aside, does this make a good alternative to air mattresses for guest rooms? ​​​​​​

Pros:
Futons can be used as a regular piece of furniture during the daytime.
Futons make great space savers. You can use it both as your living room couch and your guest room bed, no storage or room rearrangement required. 
They are usually quite affordable, and can be found at almost any retailer that sells furniture.
Cons
Since these pieces are typically very light-weight, many are equipped with thin mattresses.
Snowballing off of that, their thin frame can be wiry and stiff, making for a less than optimal level of comfort.
Nine times out of 10, you will have to assemble the piece yourself once you get them home from the store.
Futons make a compelling case as an air mattress alternative for temporary guests staying at your home.
But
for use over a long period of time, you may want to consider a different option.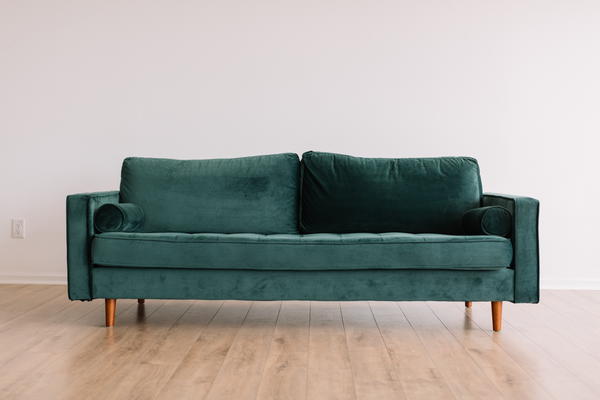 Sofa Beds
Did we all have grandparents with one of these in their basement? Often considered the grown up's futon, sofa beds are hefty pieces of furniture that are similar to a futon in that they function as both a couch and a bed. The main difference between the two is that a sofa bed looks more like your average couch, with removable cushions and padded armrests. So, what makes these a good alternative for air mattresses? 

Pros:
The larger stature of a sofa bed leads to one big perk: more room!
On top of being a larger bed, these also serve as a larger couch with more seating room.
Cons:
These bad boys are heavy. If you're someone who leases an apartment and moves frequently, a sofa bed will not be your friend.
Actually converting the sofa into a bed can be extremely difficult and straining, because the mechanisms can be rather heavy and may require an extra pair (or two) of hands.
Comfort-wise, the mattress itself can be pretty...springy. As in, your guests are likely to be able to count just how many springs are in the mattress because, well, they can feel them all.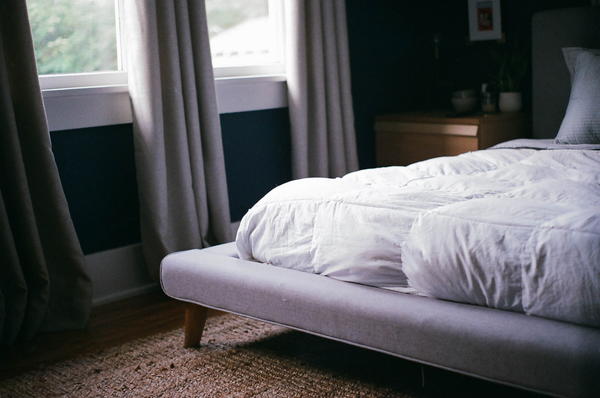 Cots
Cots come in a few shapes and styles, but generally they are small, portable, and collapsible beds. Some have actual mattresses, others are fabric pulled taught between the wire frames. 

Pros:
They are a bed elevated off of the ground, which is something that cannot be said for an air mattress.
Because they are off the ground, cots allow for air circulation to keep sleepers free of the dreaded night sweats. 
If your guests need a firm place to rest, a cot will have them covered.
Despite their seemingly flimsy frame, cots are pretty durable and will last a long time. 
Cons: 
If you sleep on your back, the firmness of a cot's bedding is great. But if you're a side sleeper, there is very little give and you're likely to wake up a little worse for the wear.
Unlike futons and sofa beds, you're not likely going to keep a cot out as a permanent piece of furniture. Though they are compactible, their frames require a decent amount of storage space.
Most of the time, cots are twin sized. While this makes storing them a bit more convienent, if your parents roll up to your house and all you have for them is two twin sized cots, you might not hear the end of it.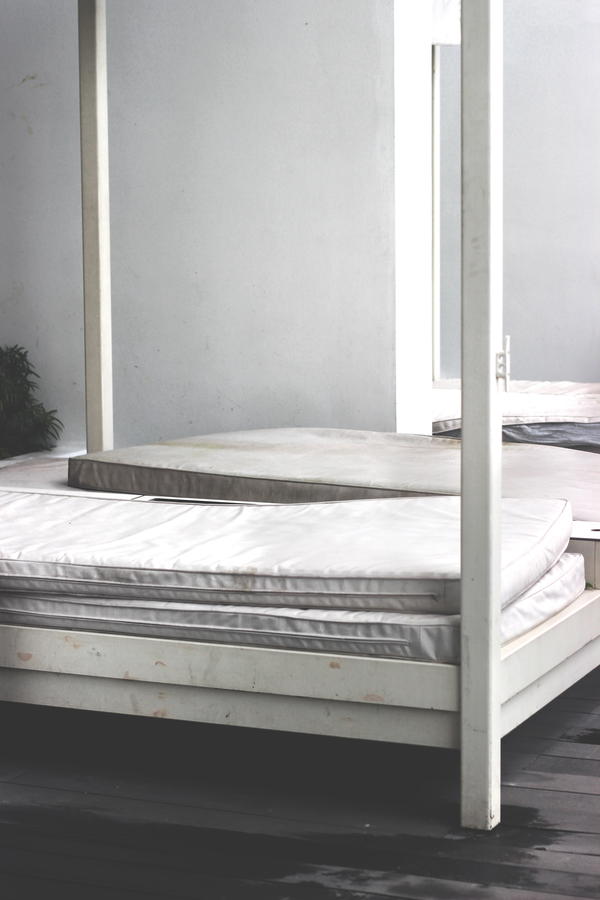 Folding Mattress
Similar to air mattresses, folding mattresses are a simple solution for temporary overnight guests. A bit unsophisticated, yes, but they get the job done without deflating beneath the weight of your guests as they sleep. Here's what this air mattress alternative has to offer:

Pros:
Size variety. Unlike cots, folding mattresses typically vary in size, ranging from twin to king sized.
These mattresses are also compact, and they fold right up with ease.
For the most part, folding mattresses are an affordable option. If you're in a pinch, this is a great choice that won't break your budget .
Cons:
Folding mattresses don't come with an elevated frame, which means that air has trouble circulating around you as you sleep, so you risk overheating throughout the night.
When it comes to cleaning the mattress, it can be difficult to get into the nooks and crannies where the bed folds, which can lead to mold.
Another pitfall of using this air mattress alternative for your guests: nearly no support for the back.
Sleeping Bags
This may not be an option to consider when it comes to guest sleeping arrangements, but if you're looking for air mattress alternatives for camping, a sleeping bag could be your best bet.

Pros:
Sleeping bags are super light. If your camping trip involved a hike, you'll have a much easier time carrying around a nylon sleeping bag rather than a hefty vinyl air mattress.
Air mattresses are easily punctured, but a sleeping bag is usually very durable. Being a camping essential, these are typically built to handle the elements.
Cons:
The lightweight convenience of a sleeping bag comes with a price: no cushion. This can make sleeping pretty uncomfortable if you're not on soft ground, and you may have to supplement with a sleeping pad (which means extra money spent and weight to carry).
With a sleeping bag, there is very little keeping you from the creepy crawlies that live in on the ground of a campsite, which can be unnerving to some.
Which air mattress alternative sounds the best to you? Let us know in the comments!
Free projects, giveaways, exclusive partner offers, and more straight to your inbox!
Tags / Related Topics
Your Recently Viewed Ideas
Images from other DIYers


Something worth saving?
SAVE all your favorite ideas
ADD personal notes
QUICKLY reference your ideas