Comedogenic Scale: Oils List and DIY Skincare Advice
What do comedogenic ratings mean for your DIY skincare?
If you've been around in the DIY beauty world for a while, then you have probably heard of the comedogenic scale. Experts often use it to determine which ingredients to use for which products or which ingredients to recommend. But how important is it, really? We're going to find out!

First of all, what is the comedogenic scale?

The comedogenic scale ranks oils and butters on a scale from 0-5, according to how likely they are to clog your pores.

An oil or butter with a comedogenic rating of 0 is considered very unlikely to clog pores. While a rating of 5 suggests something is very likely to clog pores.

As you might guess, this makes a lot of people think twice about what they are putting in their DIY skincare recipes. You definitely don't want to use ingredients that are going to cause breakouts or acne, after all. 
Which Oils are Non-Comedogenic?
Later on we'll turn to some of our top DIY beauty bloggers for their thoughts on the comedogenic scale and how to use it for your skincare routine. But for now, let's see where some common oils and butters fall on the comedogenic scale. You might be surprised!

Here's the scale in detail, for your reference. Note that a rating of 2 or below is considered non-comedogenic.

0 - Should not clog pores at all
1 - Very unlikely to clog pores
2 - Unlikely to clog pores
3 - Somewhat likely to clog pores
4 - Likely to clog pores
5 - Very likely to clog pores

Here is a list of common non-comedogenic oils: Sweet almond oil (2), argan oil (0), olive oil (2), vitamin E oil (2), grapeseed oil (1), sunflower seed oil (0-2), lanolin oil (2), jojoba oil (2), and shea butter (0-2).

Rebecca D. Dillon from Soap Deli News has more to say about the benefits of using the comedogenic scale in DIY skincare. She finds it to be super helpful.

"The comedogenic scale is a highly valuable resource especially when it comes to formulating natural skin care recipes. I refer to it often when coming up with new facial care formulations. Because I have combination, acne prone skin, sticking to ingredients that rank low on the comedogenic scale means I don't end up with a product that can cause acne. So whether I'm making a facial scrub or an anti-aging serum, referencing the oils and butters I'm thinking of using in a recipe on the comedogenic scale is always a first step."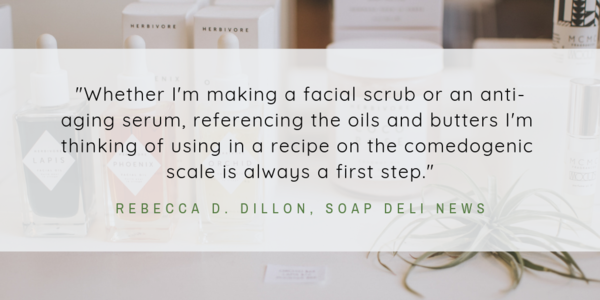 Which Oils are Comedogenic
Some common comedogenic oils and butters are: cocoa butter (4), coconut oil (4), soybean oil (3), flaxseed oil (4), linseed oil (4), palm oil (4).

You might be thinking: "How can coconut oil clog pores? Everyone loves it for DIY skincare!"

You're right! Coconut oil is a fantastic ingredient in DIY and natural skincare recipes. Whether you use it to moisturize, remove makeup, or keep your skin silky soft, many people love this comedogenic oil as part of their skincare routine.

So, what gives?

Well, it comes down to everyone's skin being different. Here's what Jaclyn Shimmel, from Crayons & Cravings has to say.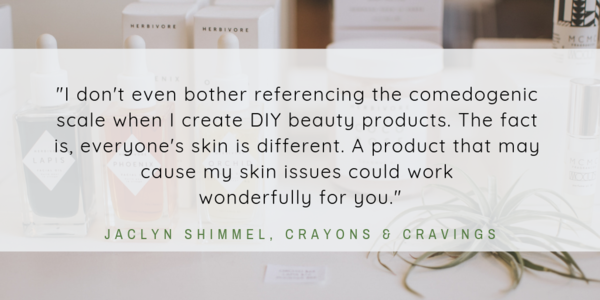 So, it's important to remember that any scale is not as important as what works for you personally.

The idea here isn't to scare you off of using certain products. Instead, use this info to help avoid oils and butters that might irritate your acne-prone skin.

Or, use it to help identify why your DIY skincare routine is causing you breakouts. If you've been wondering why a certain product is making you break out, check the ingredients for comedogenic oils. They might be the culprit.
One More Thing...
Oils and butters may affect your skin differently if they are mixed with other ingredients.

This is especially true if a comedogenic oil is only used in a small quantity in your favorite skincare product.

For example, if coconut oil is the 4th or 5th ingredient listed, it may not bother your skin as much as it would if you were applying pure coconut oil.

Ingredients on cosmetic products are listed in order by quantity. So, the further down the list an ingredient is, the less of it is in the product compared to the other ingredients.

Check out the complete list of non-comedogenic oils on this fun infographic! Feel free to share on Pinterest or download and print it out for your reference.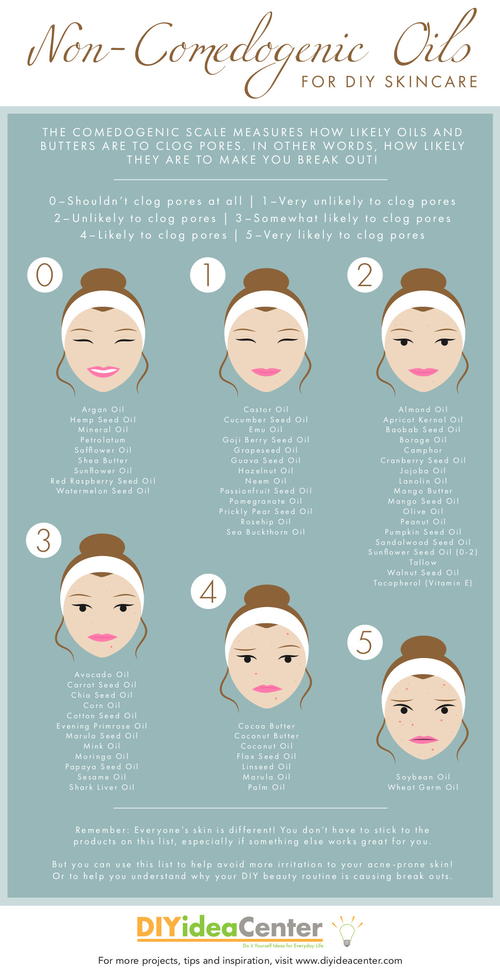 Non-Comedogenic DIY Skincare Recipes
We love DIY skincare recipes at DIYIdeaCenter! And we have so many great recipes with non-comedogenic ingredients. Give one of these amazing products a try at home, and be sure to let us and the bloggers know what you think.

DIY Pre Shave Oil - Get your smoothest shave ever (legs or face!) using this 3-ingredient oil.
DIY Cream Blush - Create a custom color using non-comedogenic shea butter.
DIY Facial Serum - This skincare hero helps minimize wrinkles, soothe adult acne, and more!
Blue Chamomile Face Cream Recipe - Nourish skin and erase signs of aging with this indulgent cream.
Dry Skin Toner Recipe - Save your winter skin with this hydrating DIY toner.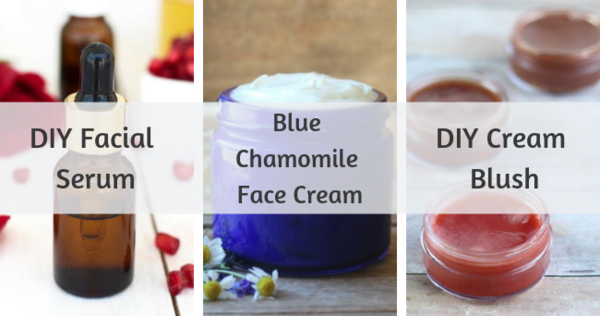 What oils and butters do you love for DIY skincare? Which do you avoid?
Free projects, giveaways, exclusive partner offers, and more straight to your inbox!
Tags / Related Topics
Your Recently Viewed Ideas
Images from other DIYers


Something worth saving?
SAVE all your favorite ideas
ADD personal notes
QUICKLY reference your ideas