Soft Glam Makeup Tutorial
Loving trendy soft glam makeup looks? Check out this fabulous soft glam makeup tutorial!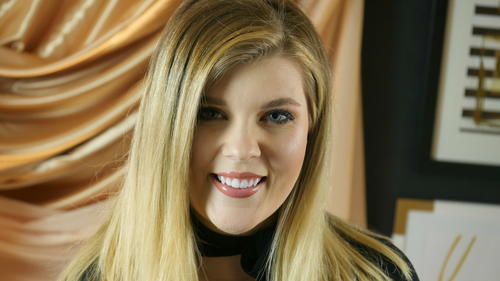 Soft Glam Makeup Tutorial
Soft Glam Makeup is a trend that has become increasingly popular lately, and it's easy to see why! This movie star look is absolutely perfect for a formal event or special occasion. By highlighting your best features, and making your skin look dewy and radiant, you'll be turning heads all evening.

So, what exactly is soft glam makeup? It's a full face makeup look that plays up your cheekbones, eyes, and lips.

It is definitely not a "natural" makeup look. It is glamorous, after all! However, the "soft" part of soft glam means that the colors are still pretty neutral. Soft glam might include smoky, shimmery eye makeup. It does not include bright purple eyeshadow or hot pink lipstick.

For this makeup tutorial, the focus was on using neutral brown eyeshadow range. This soft glam makeup look is perfect for any kind of special event or occasion to give you that glamorous red-carpet ready look!

Materials List
All products mentioned below are what I specifically used in this video, but you do not have to use the same products. 
Primer: Becca backlight priming filter
Color corrector: NYX Concealer Wand - shade green 
Foundation: Georgio Armani Luminous Silk Foundation - shade 2
Cream contour: Colour Pop Sculpting Stix - shade Dove
Concealer: Urban Decay Naked Skin Weightless Concealer - shade Fair Neutral
Under eye setting powder: Bare Minerals Eye Brightening - shade Well Rested
Powder foundation: Physicians Formaula Airbrush Pressed Powder
Optional: Loose Setting Powder: Maybelline Facestudio Master Fix Setting + Perfecting Loose Powder - shade Translucent
Eyebrow Products: to see how I filled in my eyebrows and the products I used to do it take a look at my How to Fill in Your Eyebrows tutorial. 
Bronzer/Contour Powder: Benefit Bronzer - shade Hoola
Blush: Benefit Box O' Blush - shade Coralista
Highlighter: Colourpop Pearlized Highlighter - shade Flexitarian *mentioned in this video: Colourpop Pearlized Highlighter - shade Lunch Money
Eyeshadow primer: Urband Decay Primer Potion - shade Original
Neutral brown Eyeshadows: Morphe 35O paletter, Studio Makeup On the Go Palette
Cream eyeliner: Hikari Eyeliner - shade Raven
Mascara: Too Faced Better Than Sex Mascara - shade Black
Lipliner: Colourpop Lip Liner - shade Skimpy
Lipstick: NARS Dolce Vita Lipstick - shade Dolce Vita
Lip gloss: NYX Butter Gloss - shade Creme Brulee
Soft Glam Makeup Tutorial
Soft Glam Foundation Tutorial
Using clean hands, apply your primer all over your face. 

Apply any color correcting that you see fit onto your skin and blend that out. 

Foundation is next. Pump some of your foundation onto the cap or lid of your foundation bottle, dip your brush in it, and apply to your skin. Apply your foundation in a stippling motion for a fuller coverage look. 

Begin cream contouring by applying your cream contour below your cheek bones, on the top of your forehead, under the jawline, and on the sides of your nose, or wherever you see fit. Blend this out using a beauty blender. 

Apply your concealer in triangular shape underneath your eyes, in the center of your forehead, down the middle of your nose, and on your chin, or wherever you see fit. Blend this out with a beauty blender. 

Using your under eye setting powder, set your concealer underneath your eyes using patting or stippling motions. 

Using your powder foundation set your foundation using patting or stippling motions. 

If you are choosing to bake, take your loose setting powder and damp beauty sponge or dense brush, and swirl your brush into your loose setting powder being sure to pick up a lot of product. 

Dab the powder heavily onto any areas that you want to mattify and keep from creasing. Let that powder sit for a while and do not swipe it away right away. 

Pro Tip - "If you are trying to bake your smile lines so that your foundation does not crease into them, puff your cheeks out so that as you press the powder in you are not pressing it into lines that may have already formed."

While you are still baking, you could do your eyebrows, or begin contouring. To contour, take your contouring brush and create two lines underneath your cheekbones. Then, taking an angled bronzer brush pick up a little more bronzer, tap off the excess and and blend out those lines you created for your contour. Also contour the top of your forehead and the sides of your nose if you choose. 

Brush away the baking powder and move on to your blush. Swirl your blush brush in your blush and then apply to the apples of your cheeks. For a soft glam look try and pick a blush that will look nice and natural. 

Pick up your highlighter of choice. To do a soft highlight, use a fluffy brush and gently brush starting on the ball of your cheekbone and back. Also be sure to swipe up onto your temples to blend that out. You can also highlight your cupids bow and the tip of your nose. 

Spray your face with a setting spray to help your makeup last all day. 
Soft Glam Eyeshadow Tutorial
Begin your eyes by priming your eyelid. 

You will want to set that stick primer by either using a skin tone colored eyeshadow shade, or a translucent powder using a fluffy brush. 

Start with a very light shade that is just slightly deeper than your skin tone. Take that on a fluffy blending brush and focus that all over your crease. This will be your main transition shade. 

Grabbing a color that is slightly deeper than the first color you used, tap the excess off your brush, and deepen up your crease by using windshield wiper motions. Use a slightly tapered fluffy brush to apply this shadow. 

Using the original fluffy brush and no additional product buff out that slightly deeper color you put on the lid. 

Using a still fluffy but smaller brush grab a medium toned shade and focus this further in the socket of your crease to continue to slowly deepen up that crease. 

Going back in with your tapered blending brush, or the brush you used for applying your second color, buff out that medium toned shade you just added to your lid. 

Holding off on finishing your eyeshadow, take a black or brown cream eyeliner, and line the top of your lashline as close as you can. This does not have to be perfect. 

Grab a flat top thin eyeshadow brush, and softly blend out that cream eyeliner you just placed down. You will want to just make this a very soft line and lighten the color slightly. 

If you would like to add a dark shade and really deepen that crease, use a pencil brush and grab the darkest shadow you are going to use in this eye look. Focus this color only on the outer V of your eye to add a little bit of drama. 

Going back in with your original blending brush, softly blend out that darkest color you just added. If you feel that you blended it out too much you can always add a bit more and continue to add and blend until you reach your desired intensity. 

Using a shimmery color and an eyeshadow base brush, apply that all over your lid. You can go back in with your original crease brush and swipe that back and forth to remove any shimmer that may have been added into the crease by accident. 

Using the same flat top brush you used to blend out your eyeliner, enhance the outter wing portion of that eyeliner using swift small motions. 

For the lower lashline use your medium color and using a pencily brush run that under your lower lashline and buff it out. 

Apply a light creamy matte color underneath your browbone using a clean flat top brush. 

Apply either the same shimmer shade you used on your eyelid or a shade that is a little bit more shimmery and apply that in the inner corner of your eye. 

Apply your mascara on the top and bottom lashes of your eye. If you would like you could also add fake lashes at this point. 
Soft Glam Lip Tutorial
Begin by using a lip liner that is very light and soft nude. Don't use a lip liner that is too dark. Line the outside of your lips, and either color in or add lines to the center and sides of your top and bottom lip. 

Using a pinky nude lipstick apply that to your lips on top of your lip liner. 

If you would like to make your lips look super glossy, apply a lip gloss over top of your lips. If you would rather keep a soft pout kind of look just add your lip gloss to the center of your top and bottom lip. 
Free projects, giveaways, exclusive partner offers, and more straight to your inbox!
Tags / Related Topics
Your Recently Viewed Ideas
Images from other DIYers


Something worth saving?
SAVE all your favorite ideas
ADD personal notes
QUICKLY reference your ideas