How to Organize Your Makeup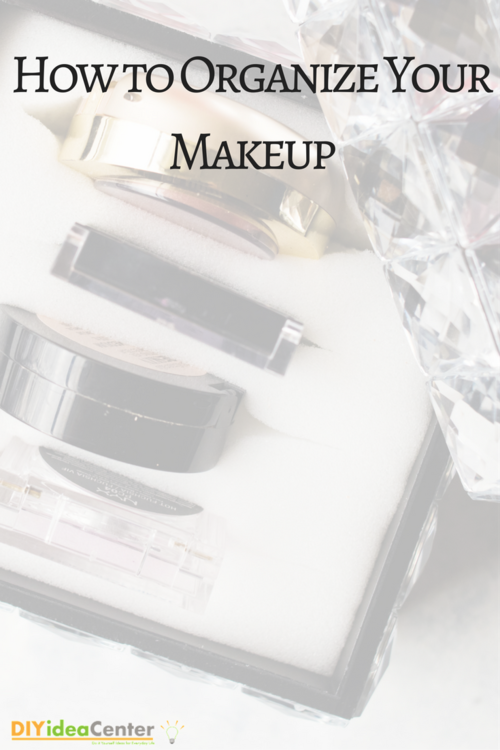 Have you been in a rut for how to organize your fairly cluttered beauty area? This guide on How to Organize Your Makeup is going to make your cluttered vanity or bathroom a thing of the past. From mason jar craft ideas to unique organizers, this guide has tons of super helpful tips and tricks. Whether you need to organize your makeup or your DIY beauty products, this guide can help you do it all!

Use all of these different ideas and incorporate them into your makeup organization routine, or pick the ones that appeal and apply best to you. Organizing makeup does not have a right or wrong way, so feel free to play with these different DIY organizer projects and ideas and see what you like best!

If you are desperate for some home improvement ideas then starting with your cluttered beauty area is definitely an easy fix and a great place to start. Plus, once you have your makeup organized you may find that you have some products you haven't been able to find and use that you love. From specific organizers to general tips this beauty guide has a lot to offer you!
Put Like Items Together
It doesn't make much sense to put your lip liners and eyeliners together. It won't benefit you to just throw your makeup in some drawers and call it organized because that is how you can lose or forget about different products that you have. 

At the same time, you need to make sure you are organizing your makeup in a way that makes the most sense to you. If it makes perfect sense to put your bronzers and highlighters together in the same drawer do that. You want to make sure you are organizing all of your products in a way that will be easiest for you to locate them later.

Extra Tips: If you are having trouble thinking of what should go together, start with sorting by categories. Face, eyes, lips can each be three separate categories that you can split your makeup into. Depending on how much makeup you have, you can then further split down each section to further organize it. For example, you could put your primers and foundations together, and then store your blushes and bronzers together separately. 
Keep Everything in Sight
If you have tons of cluttered makeup in different drawers and boxes you have no way of remembering that one blush you bought two weeks ago that you still haven't tried out. By using clear jars, or drawers you are able to see all of your makeup.

Don't worry though you can still make these clear cases cute like this Adorable DIY Makeup Storage project that adds a bit of flare to theirs. There's also this super cute Dollar Store DIY Lipstick Organizer that is a great example of how you can make a cute organizer that isn't clear but still keeps your makeup on display. 

Bonus Tip: It makes organizing a lot easier when you store your makeup brushes in a jar or mug of some kind so that they are not taking up drawer space that could go to another makeup product. Plus, this makes them easier to reach for and grab without having to dig through your drawers! Try out this Cool Blue Mason Jar DIY craft for a way you can make your mason jars fun for your beauty room!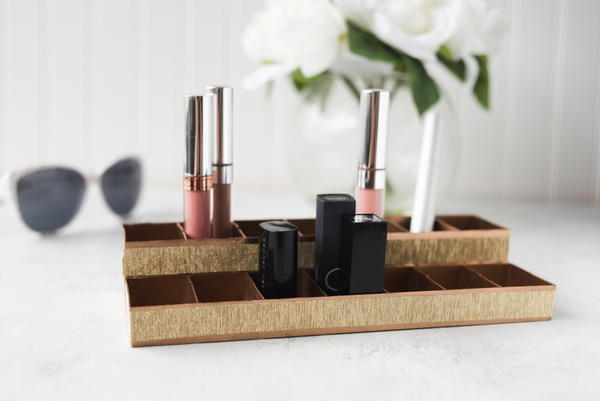 Know Your Amount
In order to do a good job in organizing your makeup you have to be honest with yourself and aware of how much makeup you actually have. Someone who has 20 different kinds of foundations is going to have to be a bit more extensive in their organization than someone who has only 3. 

If you are an avid makeup junkie that is constantly buying new products you are going to want to make sure you truly have space for all of the makeup you are buying and plan accordingly. Leave some empty space in your organizers so that you can fit in all the new products you have. If you need ideas for having larger space units to store all of your makeup try out this Genius Painted PVC DIY Shelf that is sure to bring you some extra storage room!

If you only buy makeup sparingly and for the most part stick with what you know and what you like, you can buy organizers that are exactly the size you need. You don't have to worry about extra storage space or fitting in a bunch of new products, so don't go crazy with buying too many organizers that end up taking up more space than your makeup actually does. Try out this super cool and unique Magnetic Makeup Organizer that is sure to help trim down on space and not take up more!

Pro Tip: It is always nice to buy a backup for your favorite mascara or foundation before you run out of it. For any of those makeup or bathroom items that you are making sure to have on hand before you run out of the one you currently have, it can be really nice to have a specific organization drawer for just that. If you have a place for just your backups then it doesn't get cluttered in with the ones you still need to use up.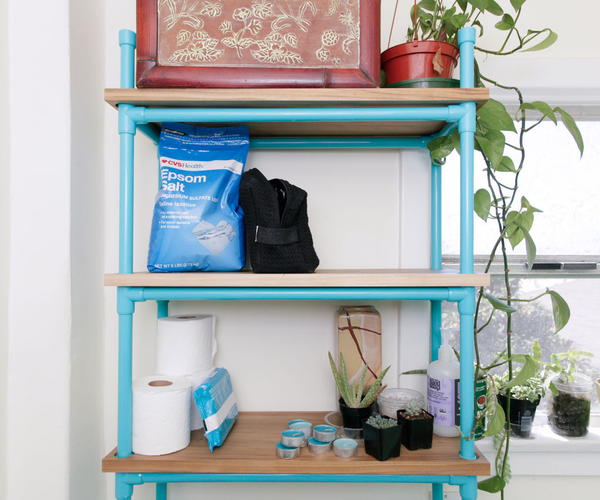 Learn how to make your own makeup products without the crazy or harsh chemicals! These DIY cosmetic recipes will easily become your new favorites!
Plan Your Furniture Accordingly
Like the tip above this is all about knowing the amount of makeup you have. In any sense, whether you have drawers upon drawers of makeup or simply just a few different products here and there, you will want to plan your furniture accordingly.

If you do have a lot of makeup, getting a bulky dresser with shallow drawers will not be your best option because it will take up more space than it is worth. Try to find furniture that is more sleek with lots of drawer space. This way you will have plenty of room for storing all of the different kinds of makeup you have. 

Hunt for the vanity that will appease you the most. If you don't need a ton of extra drawer space, you will still want a vanity that has plenty of room for you to place your makeup on the top of it. You also need to keep in mind when picking out your vanity and furniture where your mirror, extra lighting, or general decorations will go as well. Make sure you have plenty of drawer and counter space to not only store your makeup, but also apply your makeup without getting too crammed. 

This Bathroom DIY Storage Shelves are a great example of a way you can store your different products by having deeper set shelves that can fit a lot more in them!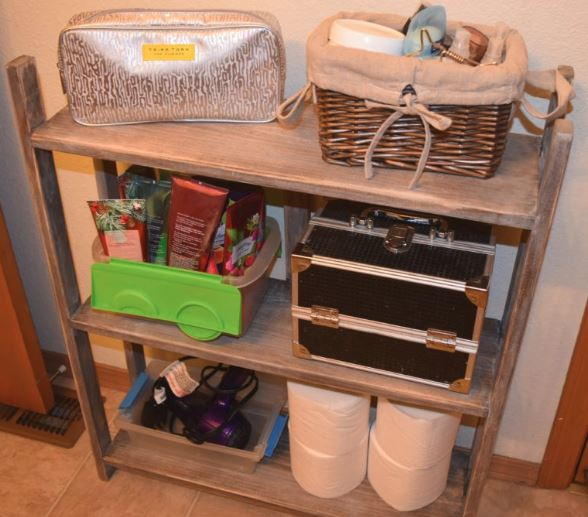 Think Outside of the Box
Another great way to organizer your beauty room and love the way it looks and turns out is thinking outside of the box. Don't go buy hundreds of dollars worth of clear drawers to shove your different makeup products in, but instead try and figure out ways you can either repurpose or create your own organizers that are perfect for organizing!

Magnetic Board: If you don't have a ton of makeup and you want it off your counter and out of your way, you can create a magnetic board and simply stick your makeup on that!
Old Jewelry Organizer: Use an old jewelry organizer in a whole new way when you put your different compacts in it instead of your jewelry!
Old Candles/Mugs: You can also use old candles, mugs, or jars for storing your different eyeliners, lip liners, brushes, or really whatever you would like in. This Marvelous Mason Jar DIY Bathroom Organizer is a great example of how you can use those items and how you can organize them for optimal counter space!
No Organizer: This one may seem odd, but if you have a ton of bulky palettes that you aren't sure how to organize, use two bookends and stack them up like books.
DIY Compact Organizer: Try this DIY Compact Organizer project that is a great way to store your different go-to compacts! You can make this organizer as big or small as you would like!

These are just a couple of ideas on how you can really get creative in making multi-purposeful organizers to keep your makeup in order!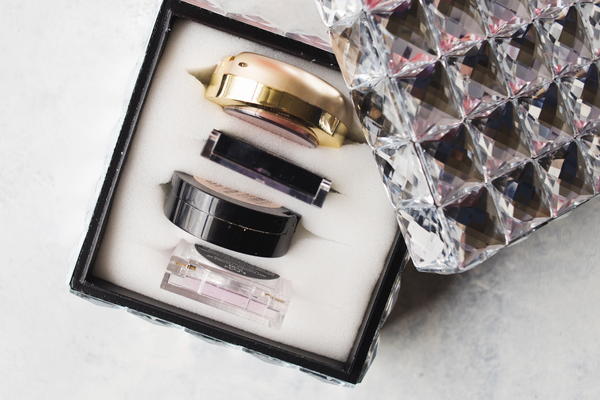 BONUS VIDEO
Check out this video guide on makeup brushes you really need in your makeup collection. If you are looking to slim down on the number of brushes you have, this is a great video to show you exactly what you need to get a flawless makeup look!
What is your favorite organization hack?
Free projects, giveaways, exclusive partner offers, and more straight to your inbox!
Tags / Related Topics
Your Recently Viewed Ideas
Images from other DIYers


Something worth saving?
SAVE all your favorite ideas
ADD personal notes
QUICKLY reference your ideas