DIY Perfume: How to Make Your Own Essential Oil Scent
Create a scent as unique as you are by making your own perfume.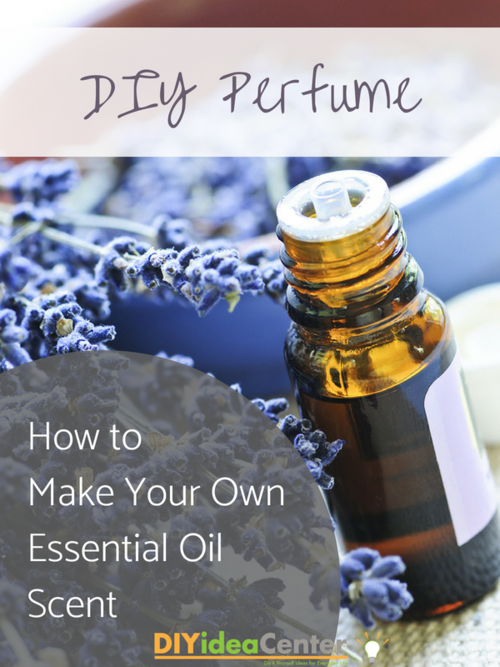 DIY Perfume
Making your own bath products and cosmetics is very trendy right now, and it's easy to see why! Taking a DIY approach to things like perfume can have a lot of advantages.

To start with, you can control exactly what ingredients are in your products. There's no need to worry about toxic chemicals or other scary additives disguised as "fragrance" on the label.

You can also create your own signature scent, which is really fun. There's no one else in the world who is quite like you, so why should you settle for sharing a fragrance with everyone else who buys your favorite brand?

Finally, DIY perfume can save you some money. Perfume can be very expensive! With some products costing hundreds of dollars per bottle, it's no wonder that people are looking for a more budget-friendly option. And with all of the other advantages, making your own perfume starts to sound like a project that you can't pass up.
DIY Perfume Ideas
There are a few different ways of making your own perfume from essential oils. If you love having a spritz bottle of perfume (it's so elegant!), you can definitely make your own at home. You will use a blend of essential oils, plus some kind of alcohol, and you will store it in a spray bottle. This type of DIY perfume does take longer to make. It's actually recommended to let it sit for 4-6 weeks to give the fragrance time to develop.

If you're looking for perfume that is easier to make, and is perfect for taking on the go, then you can also make a roll on essential oil perfume. Made in a simple 5ml roll on container, you will blend your essential oils with a carrier oil such as almond oil. When you're ready to use, you will simply roll some of the perfume on your wrists or neck.
Roll On Essential Oil Perfume Recipe
No matter which type of perfume you are making, you will need to come up with your preferred blend of essential oils. As you might know, perfume fragrances are made up of 3 types of scent - 

Top Note - Light, the first thing you smell, fades quickly
Middle Note - Bolder, the main scent of the perfume, emerges after a few minutes and lasts longer
Base Note - Rich, the last scent to emerge, lasts the longest

Your signature perfume recipe will need to include oils from each of these categories. You can use one oil for each note, for a total of 3 oils in your perfume. Or you can use a blend of one or more oiils for each note, using more oils total. The approach is up to you and depends on your access to the oils you want.

Since you will only use a few drops of essential oil to make your perfume, you may only want to purchase 3 different oils or so in order to keep the budget under control.

You can find some suggestions for oil blends here. Of course, you can also come up with your own!

To make your roll on essential oil perfume you will need - 

-Essential oil blend of your choice
-Carrier oil such as jojoba oil or sweet almond oil
-10ml dark glass roller bottle

Instructions
Add your essential oils to your roller bottle. The amount of essential oils you use will depend on the strength of the oils. We recommend using a tried-and-true recipe like this or like this in order to be sure how much you will need.

If the recipe calls for a 5ml bottle, be sure to double the amount of oil called for in the recipe.

Fill the rest of the bottle with your carrier oil.

Add roller ball top to seal and shake to blend. 

You're done! Roll this essential oil perfume onto your wrists or behind your ears and enjoy.
DIY Perfume Spray Recipe
If you love finishing your morning routine with a spritz of your signature scent, then you should definitely give this DIY spray perfume a try! As with the roll on recipe above, you will use your favorite blend of essential oils, including a top, middle, and base note. You will use more drops of essential oils for this recipe, because you will use more other liquid in order to make your spray.

To make your DIY perfume spray, you will need:

-A 5 oz. glass bottle, preferably made of dark glass. If it has a spray top, even better! Make sure it is clean.
-2 TBSP (1 oz) of carrier oil, such as jojoba or sweet almond oil
-4 TBSP (2 oz) of vodka or pure grain alcohol
-30-40 drops of essential oils of your choice. You are looking for a blend of 20% top note, 50% middle note, and 30% base note.
-2 TBSP (1 oz) of distilled water (not tap water)

Instructions
In your glass bottle, add your essential oil blend (30-40 drops). Add your carrier oil and alcohol.

Seal the bottle and shake very well to combine your oil and alcohol.

Once the oil and alcohol have combined, reopen the bottle and add your distilled water.

Seal the bottle again and shake to combine.

Store your bottle in a cool, dark for 4-6 weeks to allow the fragrance to develop. This really is an important step if you want your perfume to smell as much like a traditional perfume blend as possible!

Once it has rested, you're ready to use your new perfume! Spritz on your wrists, behind your ears, or on other pulse points, and enjoy!

Note: Because this recipe uses distilled water, observe your perfume for cloudiness or mold growth as it ages. If you notice anything like that, it's time to toss it and make a new batch! This is another reason why it's important to make sure that your bottle is clean to start with.
DIY Perfume Recipes We Love
Free projects, giveaways, exclusive partner offers, and more straight to your inbox!
Tags / Related Topics
Your Recently Viewed Ideas
Images from other DIYers


Something worth saving?
SAVE all your favorite ideas
ADD personal notes
QUICKLY reference your ideas