Amazing Benefits of Coconut Oil and 15 Ways to Use It
Discover the multitude of uses for coconut oil in everyday life.
By:
Rebecca Gonner, Editor, diyideacenter.com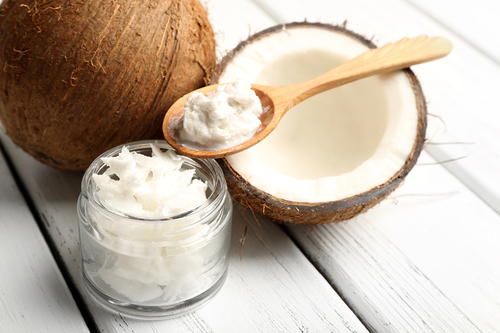 Amazing Benefits of Coconut Oil and 15 Ways to Use It
I got 99 problems and coconut oil can solve all of them. Let this Amazing Benefits of Coconut Oil and 15 Ways to Use It collection introduce you to the wonderful world of coconut oil. There are hundreds of uses for coconut oil that span from treating acne to helping improve sleep. Coconut can be used in so many DIY projects; it's definitely worth keeping a jar of coconut oil on hand. This collection lists some of the surprising ways that coconut oil can benefit your life, either daily or with the odd incident such as getting gum stuck in your hair. Following the uses for coconut oil, we provide a list of our best projects with coconut oil. With how diverse the uses for coconut oil are, it is guaranteed that it can benefit your life in some way.

Coconut oil is a popular ingredient for DIY beauty products, especially for any recipes that use essential oils. Discover the benefits of coconut oil for hair and skin with DIY products such as natural deodorants, shaving creams, hair masks, or homemade soap. Coconut oil doesn't only benefit humans though; it also works well to polish wood, remove rust, or maintain cast iron. Coconut oil is so versatile and can benefit every aspect of your life; start using it to become a healthier, greener, happier person.
Coconut oil works great in DIY beauty products! Find more homemade beauty recipes here: 
Coconut Oil Uses
15 Surprising Benefits of Coconut Oil
Moisturizer: Use coconut oil straight on your skin or as an ingredient in a homemade scrub or lotion for its natural moisturizing effects.

Promotes weight loss: When substituted for other fats in your daily diet, coconut oil helps promote weight loss. Unlike other fats, coconut oil isn't easily converted into fat to be stored in the body, and instead goes to your metabolism to be converted into energy.

Coffee creamer substitute: You can start substituting coconut oil into your diet by using it as a replacement for coffee creamer. The coconut oil will melt into your coffee and sweeten it without cooling your hot morning cup.

Wood polish: Use coconut oil as a natural alternative to wood polish. It sinks into your wood to give it a healthy shine. It also works great for conditioning wooden cutting boards.

Natural bug bite soother: Coconut oil's anti-bacterial properties help reduce annoying itchiness from bug bites.

Butter substitute: Another great way to substitute coconut oil for other fats in your diet is to use it as a butter substitute. Try spreading it on your morning toast or pouring melted coconut oil with a little salt over your popcorn. You can also substitute coconut oil for greasing pans before cooking or baking.

Makeup remover: Coconut oil can be used as a natural makeup remover, which is perfect for sensitive areas like eyes.

Remove chewing gum: Whether it's in your hair, the carpet, or clothing, coconut oil can help get chewing gum unstuck. So don't rush to the barber shop just yet; first, try using coconut oil and see how well it works.

Natural deodorant: Coconut oil can help to naturally kill bacteria that leads to body odor. Stop using the store-bought deodorant sticks that never seem to work anyway and try coconut oil instead.

Season cast iron pans: Using coconut oil to season cast iron pans will help maintain your pans and keep them in tip-top shape for years.

Carrier oil for homemade beauty products: Coconut oil makes a great base for homemade bath and beauty products. Not only does it already provide great benefits for your skin, but it works to delute any essential oils you may add to your DIY beauty products to keep them from irritating your skin.

Detangler: When applied to your hair before brushing and styling, coconut oil acts as a natural detangler. If you have long, curly, or difficult hair, try coconut oil as a detangler that won't cause any long-term damage to your hair.

Remove rust: If you have rusting knives, scissors, pans, or other household objects, try using a little coconut oil to clean it off.

Clean sap: Sap is a very difficult substance to clean off; but once again, our good friend coconut oil can help you out. If your have sap stuck on your hands, try using coconut oil to loosen it up.

Reduce dry scalp and dandruff: If you have flakes from dry scalp or dandruff, use coconut oil to clear it up and keep your skin healthy.
15 of Our Favorite DIY Coconut Oil Products
Coconut oil is the perfect ingredient to use with essential oils. Find out more about essential oils and how you can use them: 
What's your favorite use for coconut oil?
Free projects, giveaways, exclusive partner offers, and more straight to your inbox!
Tags / Related Topics
Your Recently Viewed Ideas
Images from other DIYers


Something worth saving?
SAVE all your favorite ideas
ADD personal notes
QUICKLY reference your ideas