How to Make Car Air Freshener Last Longer
Keep your car smelling fresh (for less!) with these car air freshener hacks.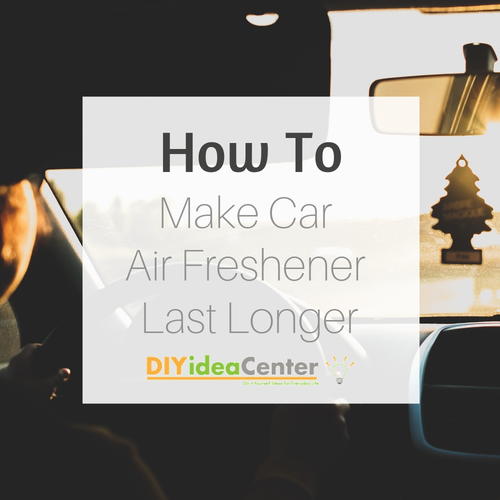 We all want to have a car that smells fresh. Some of us spend a lot of time behind the wheel, after all! And when you give someone an impromptu ride, it's always nice to know that you're not asking them to ride in a car that smells like takeout food, your pet, or just general dirt and spills.

However, finding a car air freshener that will stand the test of time can be a challenge.

Those cute trees that you hang from your rear view mirror might be cost effective, but sometimes the scent barely lasts for a few weeks. More expensive solutions might last longer, but you'll be paying more up front for them. For those of us who want to keep our cars smelling fresh, it's time to find some solutions!

That's where these smart tips for making car air freshener last longer come in. With these tips, feel free to purchase cheaper car air fresheners. They will last so much longer, eliminating the need to upgrade to pricier versions.
How to Make Car Air Freshener Last Longer
1. Keep the Air Freshener Halfway in the Package

Another thing we dislike about standard car air fresheners is that they seem to be overpowering when you first open them. And then the smell fades to nothing in a few weeks. This solution solves both of those problems!

When you purchase your car air freshener, don't take it all the way out of the package. Instead, open the package partway, enough to remove the loop that allows you to hang the air freshener in your car. You can then hang it somewhere inconspicuous or simply place it in a compartment in your driver's side door. You've probably figured out that leaving the package on your air freshener isn't the most visually appealing choice. But if you place it somewhere unobtrusive, no one will notice.

Once the smell starts to fade, remove the package entirely and enjoy the rest of the fragrance. It will be like you purchased an entirely new air freshener!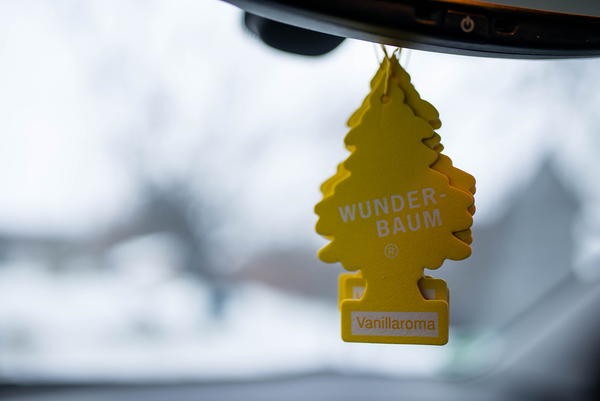 2. Use Activated Charcoal or Baking Soda

Car air fresheners that clip into the vents of your air conditioner do a great job of diffusing fresh scents throughout your car. However, they tend to evaporate more quickly than other types of air fresheners.

Instead try activated charcoal or baking soda to eliminate odors in your car. While these air fresheners won't diffuse a sweet smell in your car, they are great at getting rid of funky smells from everyday wear and tear on your car.

You can purchase activated charcoal packets (in a pack of 4) that will last for up to two years. $25 might seem like a big up front cost, but you can use the remaining three packets throughout your home. Or you can split the cost with three friends so you are only paying about $6 each for 2 years of fresh car smell.

You can also make your own car air freshener using activated charcoal or baking soda. Coffee is also a great odor eliminator! Try making your own coffee air freshener for your car for only pennies.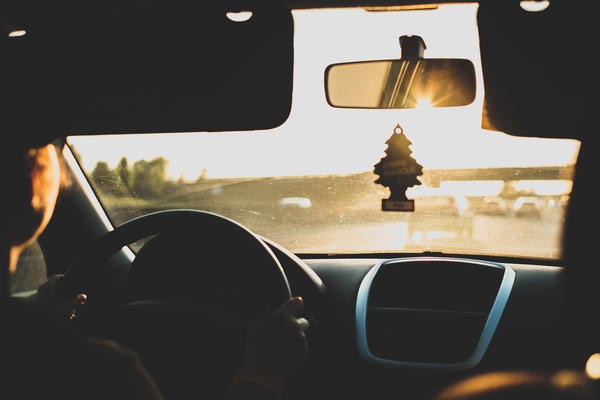 3. Re-Charge Your Air Freshener

Did you know that there are ways to recharge your car air freshener? It's true! And it's easier than you might think. Here are two methods we love--

For traditional cardboard (tree-shaped) air fresheners --
Refresh your car air freshener by dropping a few drops of your favorite essential oil onto the cardboard.
Allow the oil to absorb into the air freshener.
Return to your car and enjoy!
Note: Make sure that your essential oil scent doesn't clash with the original smell of the air freshener.
You might not have thought to use odor-absorbing gel beads in your car, but you will consider it after seeing this smart idea!
Check out this tip over on Instructables
for re-hydrating (and re-using) odor-absorbing gel beads after they have dried out. You can get up to five times the use from them, which is fantastic.
Bonus Tip! Use Home Air Fresheners in Your Car
We hinted at this tip in the idea above, but you can totally use air fresheners for the home in your car! Sometimes home air fresheners are more cost-effective, last longer, or can be more easily refreshed than those designed for your car. The only downside is that you might have to find a convenient place to stash the air freshener (since you won't be able to hang it or clip it into your vent). You might try dropping it into an unused cupholder in the back seat or secure it under one of the seats. If you can figure out this part of the puzzle, home air fresheners can be a great alternative!

There you have it! There are three easy tips for how to make car air freshener last longer. We hope that this solves some of your auto maintenance woes. Little things can really add up when you're trying to stick to a budget, and these frugal tips should help your dollar go further.
Free projects, giveaways, exclusive partner offers, and more straight to your inbox!
Tags / Related Topics
Your Recently Viewed Ideas
Images from other DIYers


Something worth saving?
SAVE all your favorite ideas
ADD personal notes
QUICKLY reference your ideas